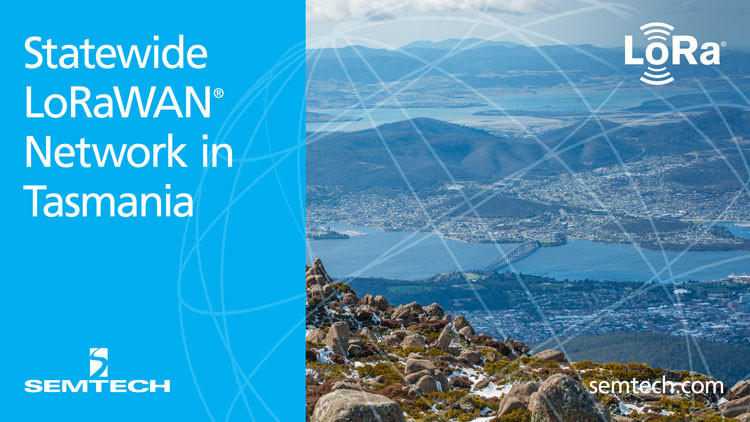 Semtech Supports Statewide LoRaWAN® Network Deployment in Tasmania
The enterprise-grade network lets organizations benefit from Internet of Things (IoT) connectivity anywhere in-state
CAMARILLO, Calif., August 28, 2019 – Semtech Corporation (Nasdaq: SMTC), a leading supplier of high performance analog and mixed-signal semiconductors and advanced algorithms, announced that Definium Technologies (Definium) has deployed a new enterprise-grade statewide network in Tasmania based on Semtech's LoRa® devices and the LoRaWAN® protocol. The network facilitates Tasmania's transition to a laboratory for testing new technologies and allowing start-ups, businesses, communities, and students to experiment as well as receive the benefits of Internet of Things (IoT) connectivity from anywhere in-state.
"We decided to take on the challenge of rolling out a statewide enterprise-grade LoRaWAN network," said Mike Cruse, CEO of Definium Technologies. "We want to encourage people to come to Tasmania and test their IoT solutions, then deploy them around the state with enterprise-grade reliability. Tasmania is the ideal life-sized laboratory at scale where individuals and businesses of all scales can experiment with next-generation IoT applications, such as applying intelligent sensors to asset management, agricultural, horticultural, and aquaculture use cases."
Definium's approach to IoT networking addresses blackspots head-on, allowing interested parties to extend coverage by installing one of Definium's Nexus 8 industrial LoRaWAN-based gateways, which has been deployed by Hobart International Airport to provide coverage for its LoRa-enabled sensors. Extending the network improves coverage for all Tasmanians and allows the network to reach traditionally unavailable parts of the island. Definium has committed over 100 of its Nexus 8 gateways to the continuing roll-out of the network, enhancing connectivity. The statewide network officially launched on July 25, 2019.
"The increasing deployment of large scale LoRaWAN networks using Semtech's LoRa devices reflects a trend toward the growing adoption of IoT globally," said Marc Pegulu, Vice President of IoT for Semtech's Wireless and Sensing Products Group. "Definium's deployment in Tasmania will expose businesses, students and potential developers to IoT, and is expected to bring thousands of devices online to enable smarter solutions in a variety of vertical markets."
About Semtech's LoRa® Devices
Semtech's LoRa devices is a widely adopted long-range, low-power solution for IoT that gives telecom companies, IoT application makers and system integrators the feature set necessary to deploy low-cost, interoperable IoT networks, gateways, sensors, module products, and IoT services worldwide. IoT networks based on the LoRaWAN® specification have been deployed in 100 countries and Semtech is a founding member of the LoRa Alliance®, the fastest growing IoT Alliance for Low Power Wide Area Network applications. To learn more about how LoRa enables IoT, visit Semtech's LoRa site.
About Definium Technologies
Definium Technologies (Definium) designs, develops, and manufactures a wide range of purpose-built devices to solve real-world problems. Definium creates IoT gateways and devices for all purposes, building automation systems hardware, electric fence monitors, fuel injection controllers, audio systems, remote controls for lifts, and more. Definium has partnered with several Australian companies to provide solutions in specific markets, including Armidale-based ICT International for environmental and agricultural monitoring and Hobart-based Aerus Technologies for healthcare and aged care monitoring. Definium works closely with, and now provides LoRaWAN network access to Sense-t, a leading IoT research group within the University of Tasmania. Definium also performs turnkey contract manufacturing work for local and international businesses. Definium has a wide experience base in IoT technologies and uses whichever technology clients request, including LoRaWAN. For more information, visit https://www.definium.net/.
About Semtech
Semtech Corporation is a leading supplier of high-performance analog and mixed-signal semiconductors and advanced algorithms for high-end consumer, enterprise computing, communications, and industrial equipment. Products are designed to benefit the engineering community as well as the global community. The Company is dedicated to reducing the impact it, and its products, have on the environment. Internal green programs seek to reduce waste through material and manufacturing control, use of green technology and designing for resource reduction. Publicly traded since 1967, Semtech is listed on the Nasdaq Global Select Market under the symbol SMTC. For more information, visit www.semtech.com.
Forward-Looking and Cautionary Statements
All statements contained herein that are not statements of historical fact, including statements that use the words "transition to," "to experiment," "trend toward," "will," "expected to," "designed to" or other similar words or expressions, that describe Semtech Corporation's or its management's future plans, objectives or goals are "forward-looking statements" and are made pursuant to the Safe-Harbor provisions of the Private Securities Litigation Reform Act of 1995, as amended. Such forward-looking statements involve known and unknown risks, uncertainties and other factors that could cause the actual results of Semtech Corporation to be materially different from the historical results and/or from any future results or outcomes expressed or implied by such forward-looking statements. Such factors are further addressed in Semtech Corporation's annual and quarterly reports, and in other documents or reports, filed with the Securities and Exchange Commission (www.sec.gov) including, without limitation, information under the captions "Management's Discussion and Analysis of Financial Condition and Results of Operations" and "Risk Factors." Semtech Corporation assumes no obligation to update any forward-looking statements in order to reflect events or circumstances that may arise after the date of this release, except as required by law.
Semtech, the Semtech logo, LoRa, and LoRaWAN are registered trademarks or service marks of Semtech Corporation or its affiliates.
SMTC-P
###