Applications
Professional AV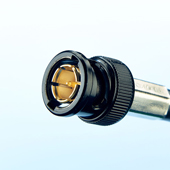 Semiconductor Solutions for SDI-over-IP Connectivity
Semtech's BlueRiver® AV Processor chipsets provide HDMI connectivity as standard, enabling routing and distribution of AV content over standard 10G Ethernet networks. Key applications, such as live video production and medical endoscopy, use equipment where the primary AV connectivity is serviced by the Serial Digital Interface (SDI). SDI operating at up to 12Gbps can carry 4K60 video over coaxial cable for long reach point-to-point connectivity.
To distribute SDI over an SDVoE™-based AV-over-IP system, the SDI signal must be converted to or from HDMI. Semtech's new GS12170 SDI/HDMI Bridge device is the perfect companion chip, which when paired with any BlueRiver device, enables SDI-over-IP networks. The diagram shows an example of an SDI-enabled SDVoE Transmitter and Receiver for a live 4K remote camera application. AV signals from the SDI PTZ 4K camera are converted in the SDVoE Transmitter for transmission over the 10G network in HDMI format, and converted back to SDI in the SDVoE Receiver. The GS12170 SDI/HDMI Bridge is a single device that can be configured to convert both SDI to HDMI and HDMI to SDI.

Figure 1. Live 4K remote camera application using an SDI-enabled SDVoE transmitter and receiver.
Inside the Box: BlueRiver and SDI Connectivity
Only three major components are required to convert SDI to IP and back, as shown in the diagram below. To support up to 4K60 over SDI, a Semtech 12G-SDI cable equalizer is paired with the GS12170 SDI/HDMI Bridge, configured in SDI to HDMI conversion mode. The GS12170 outputs HDMI signals over a standard TMDS interface which can be directly connected to the BlueRiver AV Processor chip. At the receiver, the reverse process is applied, with the TMDS output of the BlueRiver device connected directly to the GS12170 in HDMI to SDI conversion mode. Pairing the GS12170 with a Semtech 12G-SDI cable driver provides a fully SMPTE compliant SDI output.

Figure 2. Only three major components are required to convert SDI to IP and back: Semtech's 12G-SDI cable equalizer, the GS12170 SDI/HDMI Bridge and BlueRiver.
SDI ancillary data must be transmitted from the source (for example, camera metadata), the GS12170 provides an ancillary data extraction feature, allowing an external microcontroller (MCU) to access this data via a host interface and convert to RS232 packets for transmission over the 10G Ethernet network. The reverse process is applied at the receiver, where the GS12170 will reinsert ancillary data back into the SDI stream, as shown in the diagram. The GS12170 will also convert up to eight channels of embedded digital audio at 48kHz or 96kHz sampling between SDI and HDMI.
Discover our semiconductor solutions for your Pro AV needs.
SDI-over-IP Recommended Solutions
Related Resources
---
Videos
Semtech Signal Integrity Products