ESD & EMI Filter Protection
Semtech offers ESD / EMI filter protection with low pass L-C and R-C filter devices that use integrated TVS diodes. Our products replace multiple discrete EMI and RFI filter components and are available in small multiline packages. Our EClamp™ devices are designed to suppress unwanted EMI-RFI signals and provide electrostatic discharge and electromagnetic interference protection in portable electronic equipment.
Parametric Search
Use our intuitive search tool to find and compare products that suit your exact design needs and specifications.
| Total parts: | Package | Package Size | Configuration Type | Number of Lines | VRWM MAX (V) | Cj (Typ) (pF) | IPP (A) at 8/20µsec | VClamp (V) at Ipp 8/20µsec | Vin (Min) (V) | IEC61000-4-2 (ESD) contact discharge | IEC61000-4-2 (ESD) air discharge | Ron (mΩ) |
| --- | --- | --- | --- | --- | --- | --- | --- | --- | --- | --- | --- | --- |
×
Tips for using the parametric search
To compare two or more part numbers, click the checkboxes for the desired part numbers, and then click the "COMPARE PARTS" button. All other rows will be hidden.
To reset the selection, click the "RESET" button.
To add/remove parameter options, click the "CUSTOMIZE PARAMETERS" button, and then select the necessary parameters in the popup box.
To show/hide the filters after selection, click "Collapse/Expand Filters."
To visit the product detail page, click on the part number.
To view the product image and its description, click the "i" icon.
To purchase the product, click the cart button.
To sort the results, click the arrow in the column header.
To download the results in .csv format, click the "EXPORT RESULT" button.
To view more results, click the pagination controls if there are more results than one page can display.
For new part numbers, a "NEW" will be shown next to the part number as an indicator.
Interface
For more than 50 years, Semtech's Protection Products Group has been on the forefront of developing cutting-edge circuit protection solutions to safeguard the various circuit buses, ports, connectors, and interfaces found in consumer products and electronic systems.
mySemtech
Explore a wealth of downloadable resources and datasheets to assist with prototyping and production.
Looking for documentation?
Login or register for mySemtech to gain access to restricted product documentation and to add documents to your Watch List for update alerts

How do you choose between Unidirectional and Bidirectional TVS Protection Devices?
If you're concerned about safeguarding your…

Protecting USB-C: Safeguard Devices from ESD Damage
As USB technology continues to evolve, the…

How do I choose the right ESD protection solution?
Tired of shuffling through catalogs and…

ESD Protection of USB 2.0 Interfaces
Despite newer USB versions that deliver…

Semtech Protection Products
For more than 25 years, Semtech Protection…

Semtech Protection Products
For more than 25 years, Semtech Protection…

Semtech Product Overview: RClamp7534P
Watch and learn about the RClamp 7534P for…

Semtech Product Overview: RClamp1255P
Watch and learn about the RClamp 1255P for…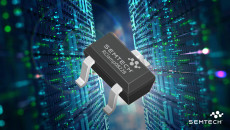 Semtech Releases New Surge Protection Product to…
Targeted for industrial, datacenter and telecommunications applications, the Semtech Protection…
READ NOW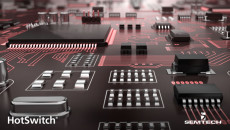 Semtech Introduces the HotSwitch® Platform for…
New HotSwitch® devices expand Semtech's robust offering of protection solutions to provide a…
READ NOW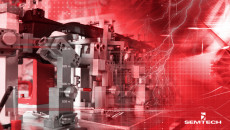 Semtech Unveils SurgeSwitch™ System Transient…
Semtech's SurgeSwitch™ product line offers 30% reduced clamping, 80% smaller package size and…
READ NOW