Broadcast Video
An innovator of serial digital interface (SDI) technology, Semtech was first to market with an array of advanced ultra-high definition (UHD)-SDI solutions and now lead the way in proven UHD-SDI, 3G-SDI, high definition (HD)-SDI and standard definition (SD)-SDI technologies. Today, we offer the world's most progressive solutions designed specifically for real world broadcast challenges. Always striving to push the boundaries of performance, reach, and signal integrity, Semtech's goal is to reduce time to market and design risks. UHD-SDI is ideal for UHDTV-1 and UHDTV-2 infrastructures that include routers, cameras, monitors, switchers, and more.
In fact, there's a good chance that any television broadcast has passed through several Semtech components.
Parametric Search
Use our intuitive search tool to find and compare products that suit your exact design needs and specifications.
| Total parts: | Embedded Audio Handling | Package Size | Package Type | Max Data Rate (Mb/s) | Power (mW) | Video Inputs | Video Outputs | Video Temperature Range (Max) (°C) |
| --- | --- | --- | --- | --- | --- | --- | --- | --- |
mySemtech
Explore a wealth of downloadable resources and datasheets to assist with prototyping and production.
Looking for documentation?
Login or register for mySemtech to gain access to restricted product documentation and to add documents to your Watch List for update alerts

GS12170 SDI/HDMI mode Reference Design Kit Setup & Startup
GS12170 SDI / HDMI bridge has 3 configurable…

Introducing the GS12170 SDI/HDMI Bridge and its Evaluation Hardware
This video introduces the GS12170 SDI/HDMI…

Semtech Signal Integrity Products
Semtech Signal Integrity Products Group…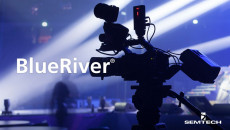 Semtech's Professional AV Interface Conversion…
New solution is ideal for use in professional high-resolution camera systems and broadcast…
READ NOW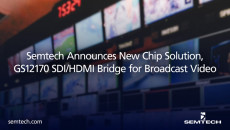 Semtech Announces New Chip Solution, GS12170…
Reducing time-to-market, industry-first chip eliminates need for costly Field-Programmable Gate…
READ NOW