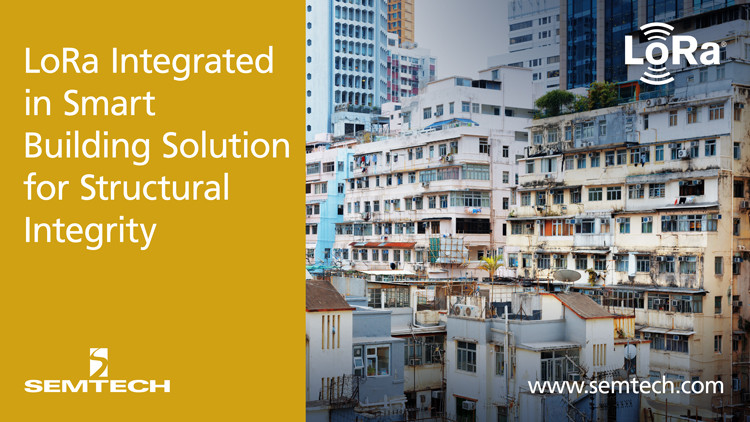 Semtech's LoRa Technology Integrated in Polysense's Structural Health Monitoring System for Smart Buildings
Structure Health Monitoring system with LoRa Technology monitors buildings for a variety of safety indicators in real-time
CAMARILLO, Calif., Jan 24, 2019 — Semtech Corporation (Nasdaq: SMTC), a leading supplier of high performance analog and mixed signal semiconductors and advanced algorithms, announced that Polysense Technologies Inc., an innovative leader in enterprise Internet of Things (IoT) solutions for fiber and wireless sensing, has built Semtech's LoRa® devices and wireless radio frequency technology (LoRa Technology) into its Structure Health Monitoring (SHM) system to enable remote and real-time monitoring of building structure safety and integrity.
"With LoRa-based wireless sensors and gateways, we can get a building connected within a couple of hours by eliminating the need for power wiring installation. In comparison, a wired solution could take around a week to install," said Will H. Yu, Director of IoT solutions at Polysense Technologies. "The key for us is to utilize the power of IoT to solve real problems. With our SHM solution, resource issues are properly addressed, while, most importantly, providing urgent information to protect citizens from danger. LoRa Technology is a perfect marriage for sensing and data analytics solutions."
Polysense's SHM system consists of various LoRa-based IoT sensors, a LoRa-based gateway, and a proprietary Cloud-based data management platform. A four to six-story building is equipped with an end-to-end solution consisting of several sensors on the walls and roof to measure building surface wall crack growth, tilt and vibration, and often a soil moisture sensor to monitor water saturation at the building's foundation, at a fractional cost of the traditional wired solution or human inspection. Typically, one gateway is used per residential complex. Additionally, Polysense provides the LoRaWAN™-based network and mobile applications for real-time monitoring of building status. Polysense recently partnered with AEIDO, a Chinese company offering structural safety inspections, certification, and monitoring services, to roll out hundreds of SHM systems in Shaoxing, a city on China's east coast which is particularly vulnerable to the elements.
"Semtech's LoRa Technology offers flexibility and easy deployment into a wide range of infrastructure, both old and new," said Vivek Mohan, Director of IoT for Semtech's Wireless and Sensing Products Group. "Scalable by increasing the number of gateways, solutions built on LoRa Technology can cover the tallest skyscrapers and sprawling campuses. LoRa Technology and the IoT are working to create safer buildings, cities and a smarter planet."
About Semtech's LoRa® Devices and Wireless RF Technology
Semtech's LoRa devices and wireless radio frequency technology is a widely adopted long-range, low-power solution for IoT that gives telecom companies, IoT application makers and system integrators the feature set necessary to deploy low-cost, interoperable IoT networks, gateways, sensors, module products, and IoT services worldwide. IoT networks based on the LoRaWAN™ specification have been deployed in 100 countries and Semtech is a founding member of the LoRa Alliance™, the fastest growing IoT Alliance for Low Power Wide Area Network applications. To learn more about how LoRa enables IoT, visit Semtech's LoRa site and join the LoRa Community™ to access free training as well as an online industry catalog showcasing the products you need for building your ideal IoT application.
About Polysense
Located in Santa Clara, California, with offices in Beijing, Luo Yang and Shanghai, China, Polysense develops IoT products and solutions for smart enterprise, city and home, including distributed fiber sensing, LPWAN LoRa, NB-IoT/LTE CAT M and Wi-Fi/BLE based wireless IoT sensors and cloud based data management and analytics cloud platform iView, edge computing platform iEdge, smartphone App iPalm. For more information, visit www.polysense.net
About Semtech
Semtech Corporation is a leading supplier of high performance analog and mixed-signal semiconductors and advanced algorithms for high-end consumer, enterprise computing, communications, and industrial equipment. Products are designed to benefit the engineering community as well as the global community. The Company is dedicated to reducing the impact it, and its products, have on the environment. Internal green programs seek to reduce waste through material and manufacturing control, use of green technology and designing for resource reduction. Publicly traded since 1967, Semtech is listed on the Nasdaq Global Select Market under the symbol SMTC. For more information, visit www.semtech.com.
Forward-Looking and Cautionary Statements
All statements contained herein that are not statements of historical fact, including statements that use the words "can," "to roll out," "to create," "designed to" or other similar words or expressions, that describe Semtech Corporation's or its management's future plans, objectives or goals are "forward-looking statements" and are made pursuant to the Safe-Harbor provisions of the Private Securities Litigation Reform Act of 1995, as amended. Such forward-looking statements involve known and unknown risks, uncertainties and other factors that could cause the actual results of Semtech Corporation to be materially different from the historical results and/or from any future results or outcomes expressed or implied by such forward-looking statements. Such factors are further addressed in Semtech Corporation's annual and quarterly reports, and in other documents or reports, filed with the Securities and Exchange Commission (www.sec.gov) including, without limitation, information under the captions "Management's Discussion and Analysis of Financial Condition and Results of Operations" and "Risk Factors." Semtech Corporation assumes no obligation to update any forward-looking statements in order to reflect events or circumstances that may arise after the date of this release, except as required by law.
Semtech and the Semtech logo are registered trademarks or service marks, and LoRaWAN is a trademark or service mark, of Semtech Corporation or its affiliates.
SMTC-P
###