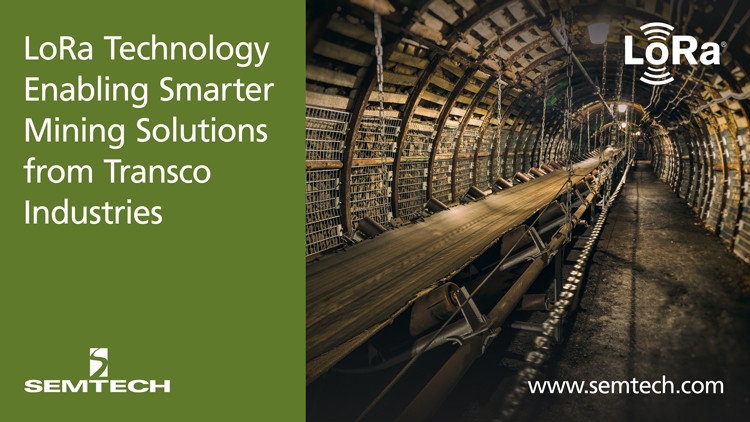 Semtech's LoRa Technology Enabling Smarter Mining Solutions from Transco Industries Inc.
Small and durable LoRa-enabled sensors monitor data in real-time to prevent costly conveyor damage and fires
CAMARILLO, Calif., Feb. 21, 2019 – Semtech Corporation (Nasdaq: SMTC), a leading supplier of high performance analog and mixed-signal semiconductors and advanced algorithms, announced that Transco Industries Inc., a leader in conveyor components, design, installation, maintenance, and repair, has implemented Semtech's LoRa® devices and wireless radio frequency technology (LoRa Technology) into its conveyor belt applications for safer monitoring while reducing operating costs.
"Semtech's LoRa Technology enables miners to remotely monitor conveyor belts, therefore reducing maintenance costs and helping to prevent belt failure," said Jeff Brown, President and CEO at Transco Industries Inc. "Previously, mine operations had to contract specialists to monitor factors like belt idler temperature and typically, this could cost hundreds of dollars per hour. With LoRa-based sensors, managers are able to do this themselves in real-time without the risk of human error."
According to market research, the global conveyor belt industry is expected to reach a value of US $6.4 billion in 2022 with smart belt technologies leading this growth. Transco's LoRa-enabled sensors were developed to flexibly fit into existing mining infrastructure including conveyor belts. The small and durable sensors connect to private networks based on the LoRaWAN™ protocol allowing the continued relay of real-time data in the extreme conditions found in a mine. A miles-long conveyor belt is equipped with an end-to-end solution consisting of several sensors embedded in the belt itself to measure stress and prevent potential ripping. In the event of a belt rip, LoRa-enabled sensors transmit a signal to the belt control, shutting the belt down immediately to halt the hazardous and expensive rip from worsening. Mine operators can then inspect the damage and decide how best to repair the system. Additional sensors are placed on belt idlers to measure temperature of the idler bearing as sensors report temperature data to allow mine operators to monitor bearing status to prevent overheating and fires. Transco's LoRa-based conveyer belt application is used in collaboration with Polysense Technologies Inc., an innovative leader in enterprise Internet of Things (IoT) solutions for fiber and wireless sensing.
"Transco's extensive experience with the mining industry, coupled with LoRa Technology's proven capabilities for IoT, make this a perfect match for a smart mining solution," said Rick Li, Founder and CEO of Polysense. "For mining operations, conveyor belts often cost several hundred dollars per foot to fix and failures can be hard to predict. LoRa-enabled sensors providing real-time data can trigger a belt shut off in the event of a rip. This saves mining operations millions of dollars, and keeps miners safe."
"Semtech's LoRa Technology creates industrial IoT solutions that are highly scalable by number of sensors and gateways to cover even the largest work site or mine," said Vivek Mohan, Director of IoT, Wireless and Sensing Products at Semtech. "LoRa Technology's easy to deploy, flexible capabilities allow mine managers to leverage real-time data to predict maintenance and increase operating efficiency."
About Semtech's LoRa® Devices and Wireless RF Technology
Semtech's LoRa devices and wireless radio frequency technology is a widely adopted long-range, low-power solution for IoT that gives telecom companies, IoT application makers and system integrators the feature set necessary to deploy low-cost, interoperable IoT networks, gateways, sensors, module products, and IoT services worldwide. IoT networks based on the LoRaWAN™ specification have been deployed in over 100 countries and Semtech is a founding member of the LoRa Alliance™, the fastest growing IoT Alliance for Low Power Wide Area Network applications. To learn more about how LoRa enables IoT, visit Semtech's LoRa site and join the LoRa Community to access free training as well as an online industry catalog showcasing the products you need for building your ideal IoT application.
About Transco Industries Inc.
Founded in 1961 as a mill service company in the Northwest, Transco has since grown to become a leader in conveyor technology, component supply, installation, maintenance and repair. Transco is also a steel fabrication, water technologies and industrial design company. Transco's 100,000 square foot AISC-Certified Portland, Oregon Manufacturing Center includes complete fabrication, sandblasting and painting facilities. Visit their site to learn more: http://www.transco-ind.com/
About Polysense
Located in Santa Clara, California, with offices in Beijing, Luo Yang and Shanghai, China, Polysense develops IoT products and solutions for smart enterprise, city and home, including distributed fiber sensing, LPWAN LoRa, NB-IoT/LTE CAT M and Wi-Fi/BLE based wireless IoT sensors and Cloud based data management and analytics Cloud platform iView, edge computing platform iEdge, smartphone App iPalm. For more information, visit www.polysense.net.
About Semtech
Semtech Corporation is a leading supplier of high performance analog and mixed-signal semiconductors and advanced algorithms for high-end consumer, enterprise computing, communications, and industrial equipment. Products are designed to benefit the engineering community as well as the global community. The Company is dedicated to reducing the impact it, and its products, have on the environment. Internal green programs seek to reduce waste through material and manufacturing control, use of green technology and designing for resource reduction. Publicly traded since 1967, Semtech is listed on the Nasdaq Global Select Market under the symbol SMTC. For more information, visit www.semtech.com.
Forward-Looking and Cautionary Statements
All statements contained herein that are not statements of historical fact, including statements that use the words "expected to," "developed to," "designed to," or other similar words or expressions, that describe Semtech Corporation's or its management's future plans, objectives or goals are "forward-looking statements" and are made pursuant to the Safe-Harbor provisions of the Private Securities Litigation Reform Act of 1995, as amended. Such forward-looking statements involve known and unknown risks, uncertainties and other factors that could cause the actual results of Semtech Corporation to be materially different from the historical results and/or from any future results or outcomes expressed or implied by such forward-looking statements. Such factors are further addressed in Semtech Corporation's annual and quarterly reports, and in other documents or reports, filed with the Securities and Exchange Commission (www.sec.gov) including, without limitation, information under the captions "Management's Discussion and Analysis of Financial Condition and Results of Operations" and "Risk Factors." Semtech Corporation assumes no obligation to update any forward-looking statements in order to reflect events or circumstances that may arise after the date of this release, except as required by law.
Semtech, the Semtech logo and LoRa are registered trademarks or service marks, and LoRaWAN is a trademark or service mark, of Semtech Corporation or its affiliates.
SMTC-P
###