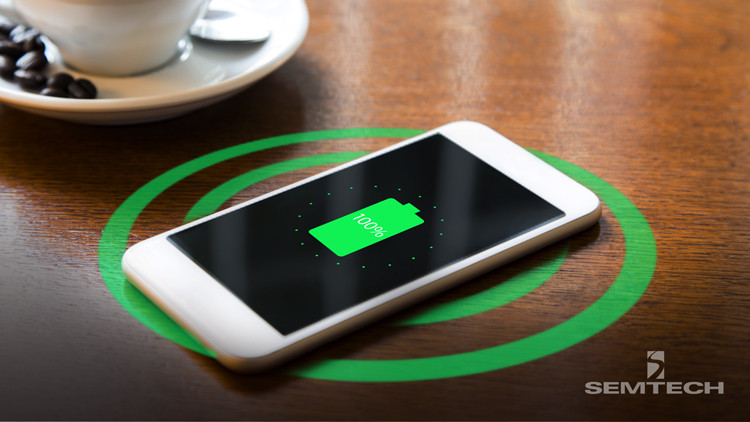 Semtech's LinkCharge® Platform Integrated in Shanghai Magway Magnetics' Commercial 22mm Long Distance Smartphone Wireless Charger
The long distance solution to revolutionize the user experience for smartphone wireless charging
CES at LAS VEGAS, Jan. 8, 2019 – Semtech Corporation (Nasdaq: SMTC), a leading supplier of high performance analog and mixed-signal semiconductors and advanced algorithms, announced that its LinkCharge® wireless charging platform has been adopted by Shanghai Magway Magnetics' in its first commercial 22mm long distance smartphone wireless charger.
"By using Semtech's LinkCharge technology in our new products, we have greatly simplified the installation process of sub-surface charging modules for our customers in the furniture and infrastructure businesses," said Justin Fang, CEO of Shanghai Magway Magnetics Co. Ltd. "Our solution is now a plug and play solution that can be seamlessly integrated with furniture tops. We envision a future where cables and power banks are obsolete, and our commercial 22mm long distance smartphone wireless charging solutions are available everywhere."
The LinkCharge integrated circuit (IC) chipset can wirelessly charge major brand smartphones with a gap of 10 to 22mm. It also supports fast charging modes of major smartphones, which greatly reduces charging time. The solution features patent pending short distance protection, which adjusts the transmit power when the receiver is placed closer to the transmitter. The solution also features smart foreign object detection (FOD), which is a user safety feature, preventing metal objects from heating up when placed between the transmitter and smartphone. These features make the LinkCharge platform an ideal solution for furniture and public infrastructure applications.
"Semtech provides a highly differentiated solution to the smartphone wireless charging market. By enabling longer charging distances, consumers will enjoy the freedom of being able to quickly charge their mobile phones wherever they go," said Francois Ricodeau, Sr. Product Line Manager for Semtech's Wireless and Sensing Products Group.
Key Features of Shanghai Magway Magnetics (MGWTLX15-A21X)
Z-gap distance range: 10mm to 22mm
Compatible with major brand wireless charging enabled smartphones
Maximum deliverable power: up to 10W
Efficiency at maximum distance: >60%
Foreign object detection
Short distance protection
Resources
About Semtech's LinkCharge Platform
Semtech's LinkCharge wireless charging platform provides a range of solutions to enable wireless power in next-generation products for consumers, infrastructure and industrial applications. It includes the LinkCharge 40 Series, the LinkCharge 20 Series, the LinkCharge CT Series, and the LinkCharge LP. The LinkCharge platform is compatible with the major industry standards ensuring end products can quickly charge any wireless charging-equipped device even as the industry adoption continues to grow and evolve. More information about the LinkCharge platform and the rest of Semtech's wireless charging solutions is available at www.semtech.com
About Magway
Shanghai Magway Magnetic Co., Ltd. was set up in 2003. With advanced testing and inspecting equipment, Magway produces and sells more than 10 kinds of materials and 1,000 specification of magnetic ferrite core. The Company specializes in technology and knowledge to improve wireless charging. Magway's vision is to build high performance product into the world. For more information, visit en.magway.com.cn/.
About Semtech
Semtech Corporation is a leading supplier of high performance analog and mixed-signal semiconductors and advanced algorithms for high-end consumer, enterprise computing, communications, and industrial equipment. Products are designed to benefit the engineering community as well as the global community. The Company is dedicated to reducing the impact it, and its products, have on the environment. Internal green programs seek to reduce waste through material and manufacturing control, use of green technology and designing for resource reduction. Publicly traded since 1967, Semtech is listed on the Nasdaq Global Select Market under the symbol SMTC. For more information, visit www.semtech.com.
Forward-Looking and Cautionary Statements
All statements contained herein that are not statements of historical fact, including statements that use the words "to," "envision," "ideal for," "will," or other similar words or expressions, that describe Semtech Corporation's or its management's future plans, objectives or goals are "forward-looking statements" and are made pursuant to the Safe-Harbor provisions of the Private Securities Litigation Reform Act of 1995, as amended. Such forward-looking statements involve known and unknown risks, uncertainties and other factors that could cause the actual results of Semtech Corporation to be materially different from the historical results and/or from any future results or outcomes expressed or implied by such forward-looking statements. Such factors are further addressed in Semtech Corporation's annual and quarterly reports, and in other documents or reports, filed with the Securities and Exchange Commission (www.sec.gov) including, without limitation, information under the captions "Management's Discussion and Analysis of Financial Condition and Results of Operations" and "Risk Factors." Semtech Corporation assumes no obligation to update any forward-looking statements in order to reflect events or circumstances that may arise after the date of this release, except as required by law.
Semtech, the Semtech logo and LinkCharge are registered trademarks of Semtech Corporation or its affiliates.
SMTC-P
####