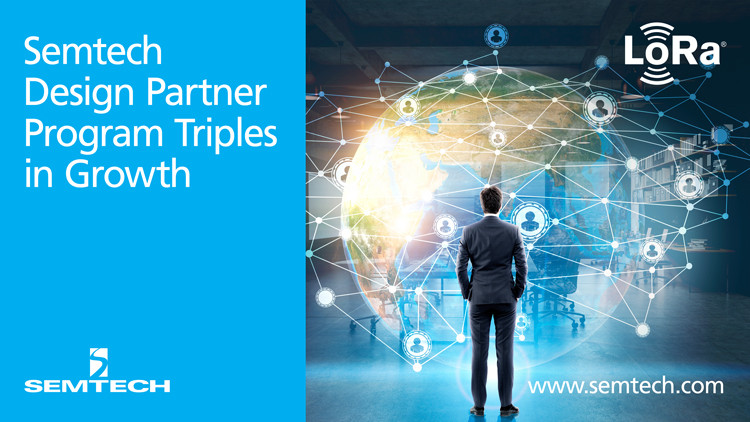 Semtech's Design Partner Program for LoRa® Technology Triples in Membership
Since its inception in September 2018, program membership has grown to 26 partner companies offering a wide range of design services
CAMARILLO, Calif., April 17, 2019 ― Semtech Corporation (Nasdaq: SMTC), a leading supplier of high performance analog and mixed-signal semiconductors and advanced algorithms, announced the strong growth of its Design Partner Program. The program, which accelerates Internet of Things (IoT) solutions to market by directly connecting customers with firms specializing in LoRa® devices and wireless radio frequency technology (LoRa Technology), has grown to include 26 partner companies since its inception in September 2018.
"The Design Partner Program enables customers, system integrators, and developers looking to create an innovative LoRa-based solution to work directly with experienced firms," said Marc Pegulu, Vice President of IoT for Semtech's Wireless and Sensing Products Group. "The goal of this project is to simplify deployment and accelerate time-to-market for new solutions. As the program grows, prospective developers now have a larger selection and variety of services available. Given the wider range of choices, customers can find a Design Partner that better suits their development needs. With Design Partner expertise we believe customers can more quickly and successfully develop their applications."
To-date, the Design Partner Program has more than tripled in membership, and currently includes companies from North and South America, Europe and Asia. Partner companies offer a wide range of products and services, including hardware design and layout, digital and analog design, embedded firmware, application code, security, and Cloud integration. Customers interested in contracting a Design Partner's services may do so by reaching out to the company directly. As more companies are added monthly, companies wishing to be added to the Design Partner Program may submit an inquiry to Semtech for consideration.
The following companies have been added to the Design Partner Program since its initial rollout:
ALCIOM
ALCIOM is a consulting and design house company focused on mixed-signal electronics, from RF and microwaves to high-speed electronics, from antenna design and optimization to signal processing, from optimized analog front-ends to ultra-low power sensors.
allóra Factory
allóra Factory develops and manufactures market standard and custom wireless products. Specializing in low power wide area network (LPWAN) design, allóra Factory makes it possible to deploy sensors and actuators at a minimum installation and maintenance cost. Products and services are targeted to solution providers, software integrators and telecom operators active in food safety, cold chain, building management, industry 4.0, and agriculture.
Always Wireless
Always Wireless is an RF-only specialized design house creating high performance optimized front ends and antennas featuring FCC and RED standard compliance pre-certifications.
Bresslergroup
Bresslergroup is a full service product design and development consultancy firm offering user research, interaction design, industrial design, and mechanical and electrical engineering services.
Cargt, Inc.
Cargt is an engineering design services firm creating custom PCB's and firmware for wireless and low power products.
Deep Thought Systems (P) Ltd.
Deep Thought Systems specializes in embedded system based products for automotive and industrial IoT, offering both hardware design and firmware development capabilities.
INES
INES is a design house company specializing in many types of data communication interfaces, offering services for prototyping, RF design, firmware, and more.
Innovel
Innovel develops and manufactures custom wireless products made in France. Areas of expertise include PCB layout, application code, Cloud integration, and more.
Invoxia
France-based IoT manufacturer Invoxia offers strong experience in producing lightweight connected sensors with long battery life and embedding artificial intelligence (AI) in Edge computing.
Kerlink
A co-founder and board member of the LoRa Alliance™, Kerlink is a leading provider of end-to-end IoT network solutions, serving telcos, businesses and administrations worldwide. Kerlink's comprehensive portfolio covers indoor and outdoor carrier-grade LoRaWAN®-based gateways, LoRa-based server and network management applications, geolocation software, device management solution and LoRaWAN reference design.
Laird Connectivity
Laird Connectivity simplifies the enablement of wireless technologies with market-leading wireless modules and antennas, integrated sensor and gateway platforms, and customer-specific wireless solutions.
Matchbox Mobile
Matchbox Mobile offers strategy, design sprints, PoCs and full system builds, with longer term support and maintenance.
Miromico AG
Miromico is an engineering company specializing in the development of LoRa/LoRaWAN-based products for IoT, offering antenna design, RF design, embedded firmware, and security software solutions.
NextGen RF Design, Inc.
NextGen RF Design is an engineering design services firm focused on RF/Wireless applications, offering services such as digital and analog design, FCC certification and application coding.
Onethinx BV
Onethinx specializes in full service LoRa-based IoT solutions, offering both off-the-shelf and tailor-made applications. Onethinx's solutions are built on optimized concepts and technical innovations, backed up by over 15 years of experience in the field of internet software, electronics and mechanics.
PROESYS Srl
PROESYS is an Italy-based company supplying IoT Industry 4.0 network solutions to vertical markets. PROESYS' comprehensive portfolio covers rugged industrial grade outdoor LoRaWAN-based gateways and sensors for high demanding applications as well as network and device management solutions.
RF Track
RF Track designs and produces connected objects for vehicle geolocation, farm animal monitoring, sensor monitoring, and e-health. Designed from customer specifications, solutions use low power LoRa Technology to achieve a battery life of several years.
Signetik
Signetik is an engineering design services and LoRa-based hardware/software design licensing firm specializing in embedded technology, hardware design and signal processing.
STIMIO
STIMIO designs and produces wireless industrial IoT solutions to connect assets and measure performance. Solutions help customers to improve their operational efficiency and propose new business models.
For more information, visit the Semtech Design Partner Program page.
About Semtech's LoRa® Devices and Wireless RF Technology
Semtech's LoRa devices and wireless radio frequency technology is a widely adopted long-range, low-power solution for IoT that gives telecom companies, IoT application makers and system integrators the feature set necessary to deploy low-cost, interoperable IoT networks, gateways, sensors, module products, and IoT services worldwide. IoT networks based on the LoRaWAN® specification have been deployed in 100 countries and Semtech is a founding member of the LoRa Alliance™, the fastest growing IoT Alliance for Low Power Wide Area Network applications. To learn more about how LoRa enables IoT, visit Semtech's LoRa site.
About Semtech
Semtech Corporation is a leading supplier of high performance analog and mixed-signal semiconductors and advanced algorithms for high-end consumer, enterprise computing, communications, and industrial equipment. Products are designed to benefit the engineering community as well as the global community. The Company is dedicated to reducing the impact it, and its products, have on the environment. Internal green programs seek to reduce waste through material and manufacturing control, use of green technology and designing for resource reduction. Publicly traded since 1967, Semtech is listed on the Nasdaq Global Select Market under the symbol SMTC. For more information, visit www.semtech.com.
Forward-Looking and Cautionary Statements
All statements contained herein that are not statements of historical fact, including statements that use the words "goal," "believe," "designed to," or other similar words or expressions, that describe Semtech Corporation's or its management's future plans, objectives or goals are "forward-looking statements" and are made pursuant to the Safe-Harbor provisions of the Private Securities Litigation Reform Act of 1995, as amended. Such forward-looking statements involve known and unknown risks, uncertainties and other factors that could cause the actual results of Semtech Corporation to be materially different from the historical results and/or from any future results or outcomes expressed or implied by such forward-looking statements. Such factors are further addressed in Semtech Corporation's annual and quarterly reports, and in other documents or reports, filed with the Securities and Exchange Commission (www.sec.gov) including, without limitation, information under the captions "Management's Discussion and Analysis of Financial Condition and Results of Operations" and "Risk Factors." Semtech Corporation assumes no obligation to update any forward-looking statements in order to reflect events or circumstances that may arise after the date of this release, except as required by law.
Semtech, the Semtech logo, LoRa and LoRaWAN are registered trademarks or service marks of Semtech Corporation or its affiliates.
SMTC-P
###