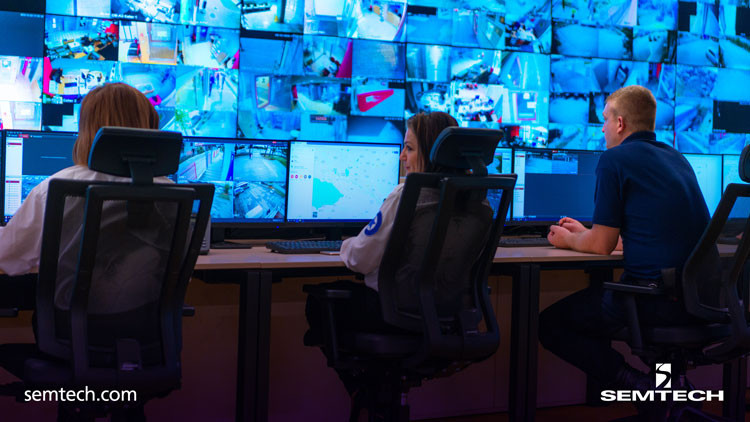 Semtech's AVX Enables 4K60 HDMI Extenders for the Most Demanding Pro AV Applications
YUAN's 4K60 AVX AV extenders enable high performance point-to-point AV transport
CAMARILLO, Calif., Oct. 1, 2020 — Semtech Corporation (Nasdaq: SMTC), a leading supplier of high performance analog and mixed signal semiconductors and advanced algorithms, announced that YUAN High-Tech Development Co., Ltd. (YUAN), a leading provider of high quality AV products for the digital home, broadcasting and surveillance markets, has introduced a full lineup of AV extenders based on Semtech's AVX technology. YUAN's new product line offers copper or fiber connectivity and delivers lossless, zero latency, point-to-point HDMI extension up to 4K60/HDR.
"Semtech's AVX technology enables our next generation of point-to-point AV extenders," said Wendy Lin, Director of U.S. Sales at YUAN. "Thanks to AVX, YUAN can offer true 4K60 video extension without compromising on latency or video quality."
Unlike competing HDBaseT solutions, which require additional devices to convert electrical signals to be fiber-compatible, Semtech's AVX ASIC connects directly to the SFP+ optical module without additional circuitry. This translates to power and cost savings for AVX-based designs. AVX enables YUAN's new AV extenders to transmit HDMI signals over distances ranging from 300m using multimode fiber to over 40km with single mode fiber. The YUAN lineup also includes products that extend up to 100m over standard Cat-6a copper cable using a fully IEEE-compliant copper PHY. At maximum cable reach, there is no compromise on video quality and immunity to EMI with a latency of less than 0.1 milliseconds.
"YUAN's lineup of 4K60 AVX AV extenders showcase the performance and versatility of Semtech's AVX technology," said Don Shaver, Vice President of Video Products for Semtech's Signal Integrity Products Group. "AVX meets industry needs by delivering robust and high quality video transmission over distance. The Pro AV industry has long awaited a 4K60 HDMI extender technology to deliver on performance, and by leveraging the capabilities of AVX, YUAN was able to create a product which pushes the envelope of multimedia connectivity over standard copper or optical fiber."
YUAN High-Tech Development Co., Ltd.
YUAN, established in 1990 and headquartered in Taipei, is a leading force and pioneering developer in video relevant markets, including broadcasting, conference systems, digital home entertainment, live streaming, and medical and surveillance markets, etc. YUAN delivers an extensive range of high quality video/audio products with SDK and customization services for software developers and ODM customers for over 29 years. YUAN is also a design house with capability to design hardware, mechanicals, firmware, FPGA, driver and SDK to provide the best technical support for customers. YUAN provides PCIe/miniPCIe/M.2/USB video capture cards, video converters and streaming encoder series, with resolution supported up to 4K60P. For more information, visit www.yuan.com.tw
About Semtech
Semtech Corporation is a leading supplier of high performance analog and mixed-signal semiconductors and advanced algorithms for infrastructure, high-end consumer and industrial equipment. Products are designed to benefit the engineering community as well as the global community. The Company is dedicated to reducing the impact it, and its products, have on the environment. Internal green programs seek to reduce waste through material and manufacturing control, use of green technology and designing for resource reduction. Publicly traded since 1967, Semtech is listed on the Nasdaq Global Select Market under the symbol SMTC. For more information, visit www.semtech.com.
Forward-Looking and Cautionary Statements
All statements contained herein that are not statements of historical fact, including statements that use the words "designed to" or other similar words or expressions, that describe Semtech Corporation's or its management's future plans, objectives or goals are "forward-looking statements" and are made pursuant to the Safe-Harbor provisions of the Private Securities Litigation Reform Act of 1995, as amended. Such forward-looking statements involve known and unknown risks, uncertainties and other factors that could cause the actual results of Semtech Corporation to be materially different from the historical results and/or from any future results or outcomes expressed or implied by such forward-looking statements. Such factors are further addressed in Semtech Corporation's annual and quarterly reports, and in other documents or reports, filed with the Securities and Exchange Commission (www.sec.gov) including, without limitation, information under the captions "Management's Discussion and Analysis of Financial Condition and Results of Operations" and "Risk Factors." Semtech Corporation assumes no obligation to update any forward-looking statements in order to reflect events or circumstances that may arise after the date of this release, except as required by law.
Semtech, the Semtech logo are registered trademarks or service marks of Semtech Corporation or its affiliates.
SMTC-P
###