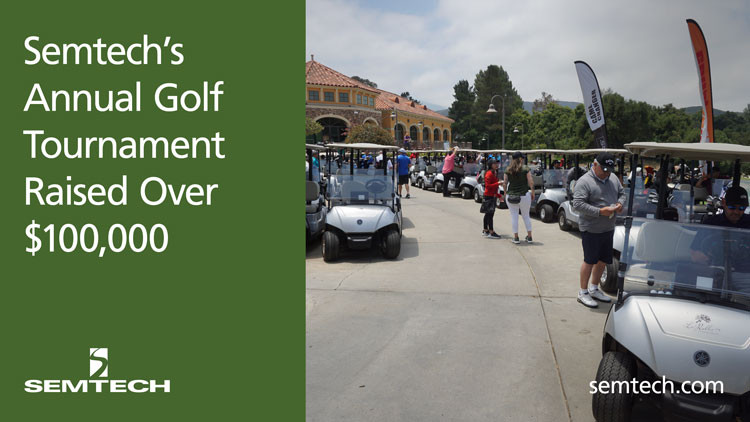 Semtech's Annual Golf Tournament Raised Over $100,000 for Family Support Services
Tournament proceeds will be donated to Ventura County charities Interface Children & Family Services, and Kids & Families Together
CAMARILLO, Calif., June 26, 2019 ― Semtech Corporation (Nasdaq: SMTC), a leading supplier of high performance analog and mixed-signal semiconductors and advanced algorithms, hosted its seventh annual charity golf tournament on June 14 at Los Robles Golf Course in Thousand Oaks, Calif., raising over $108,000 in donations for Interface Children & Family Services (Interface) and Kids & Families Together, two comprehensive non-profit social services agencies based in Ventura County.
"Interface is grateful for Semtech's continued support of our mission to create a safer and healthier Ventura County for its families and communities," said Erik Sternad, Executive Director of Interface Children & Family Services. "The generous donations from Semtech, its employees and partners, significantly enhance Interface's ability to respond to calls for help and provide quality care for those most at-risk in our community."
As a critical safety net for children and families, Interface provides 24 distinct programs across six core program areas including mental health and trauma treatment, domestic violence and child abuse prevention, youth crisis intervention, human trafficking, and reentry services. Following the 2017 Thomas Fire and Montecito Mudslides, Interface responded to 1,800 local calls for evacuation, shelter and missing persons' services, saving many lives.
Kids & Families Together (K&FT) is a nonprofit that has been serving foster, adoptive, kinship, and birth families throughout Ventura County since 2000. The organization works with children who have experienced trauma, abuse, neglect, loss, and multiple placements. In addition, K&FT also work with caregivers who need specialized education, support, and strategies to help raise safe, healthy, nurtured children that thrive.
"Proceeds from this year's tournament will support Kids & Families Together to continue to provide quality care and support for the vulnerable youth in our community," said Sharon Cromartie at Kids & Families Together. "Successful parenting takes dedication and hard work. It is only through assistance from philanthropic leaders like Semtech that we are able to bring the best guidance and resources to our foster, kinship, and adoptive families."
A yearly highlight in the Ventura County area, Semtech's Charity Golf Tournament hosts employees, families and friends for a full day of fundraising activities, golfing, raffles and an awards dinner with a silent auction.
"As Semtech has been a member of the Ventura County community for 60 years, it is important for us to give back and be a leader in creating a better tomorrow for those in our community," said Mohan Maheswaran, Chief Executive Officer at Semtech. "Our annual charity golf tournament is a great way for our employees and their friends and family to show their appreciation and raise funds for local charities."
Headquartered in Camarillo, Semtech is dedicated to actively working with the community to support local charities and not-for-profit programs. To date, Semtech's Charity Golf Tournament has raised approximately $400,000 for a number of Ventura County organizations.
About Semtech
Semtech Corporation is a leading supplier of high performance analog and mixed-signal semiconductors and advanced algorithms for high-end consumer, enterprise computing, communications, and industrial equipment. Products are designed to benefit the engineering community as well as the global community. The Company is dedicated to reducing the impact it, and its products, have on the environment. Internal green programs seek to reduce waste through material and manufacturing control, use of green technology and designing for resource reduction. Publicly traded since 1967, Semtech is listed on the Nasdaq Global Select Market under the symbol SMTC. For more information, visit www.semtech.com.
About Interface Children and Family Services
Interface is Ventura County's leading nonprofit social services agency, providing free, proven, and responsive services to address the complex physical and emotional needs of 59,000 local clients every year. Its 30 programs utilize 10 evidence-based practices to serve children, teens, adults and families who are typically low-income and struggling with poverty, domestic violence, human trafficking, homelessness, incarceration, child abuse, neglect and abandonment. Interface also connects 150,000 clients per year to a vast network of health and human services across 21 counties through its 2-1-1 Information and Referral programs. Interface's core program areas are Mental Health and Trauma Treatment, Domestic Violence Intervention and Child Abuse Prevention, Youth Crisis and Homeless Services, Human Trafficking Intervention, Reentry Services, and 2-1-1 Ventura County. The agency has pioneered several programs: Interface launched California's first 2-1-1 call center, initiated the first Pay for Success Program, and was one of the first agencies in the state to open a domestic violence shelter. Recently, Interface opened the only local human trafficking shelter for adults and is the designated provider of child abuse treatment in the region. The agency operates out of 19 school and neighborhood locations with main sites in Camarillo, Moorpark, Oxnard, Santa Paula and Thousand Oaks. For more information, visit https://www.icfs.org/
About Kids & Families Together
Kids & Families Together is a not-for-profit support, education and counseling resource center that provides services for individuals and families in foster care, kinship care and adoption, for the preservation of families and the physical, emotional and mental health of children. Kids & Families Together's mission is to strengthen relationships by providing safe, supportive help that keeps family members emotionally connected to one another. Children who have experienced trauma, abuse, neglect, loss, grief and multiple placements often need extraordinary care, understanding and "attachment-focused" therapeutic interventions. Parents/caregivers need specialized education, support and strategies that will enhance their ability to raise safe, healthy and nurtured children. For more information, visit http://www.kidsandfamilies.org/
Forward-Looking and Cautionary Statements
All statements contained herein that are not statements of historical fact, including statements that use the words "will," "designed to," or other similar words or expressions, that describe Semtech Corporation's or its management's future plans, objectives or goals are "forward-looking statements" and are made pursuant to the Safe-Harbor provisions of the Private Securities Litigation Reform Act of 1995, as amended. Such forward-looking statements involve known and unknown risks, uncertainties and other factors that could cause the actual results of Semtech Corporation to be materially different from the historical results and/or from any future results or outcomes expressed or implied by such forward-looking statements. Such factors are further addressed in Semtech Corporation's annual and quarterly reports, and in other documents or reports, filed with the Securities and Exchange Commission (www.sec.gov) including, without limitation, information under the captions "Management's Discussion and Analysis of Financial Condition and Results of Operations" and "Risk Factors." Semtech Corporation assumes no obligation to update any forward-looking statements in order to reflect events or circumstances that may arise after the date of this release, except as required by law.
Semtech and the Semtech logo are registered trademarks or service marks of Semtech Corporation or its affiliates.
SMTC-P
###