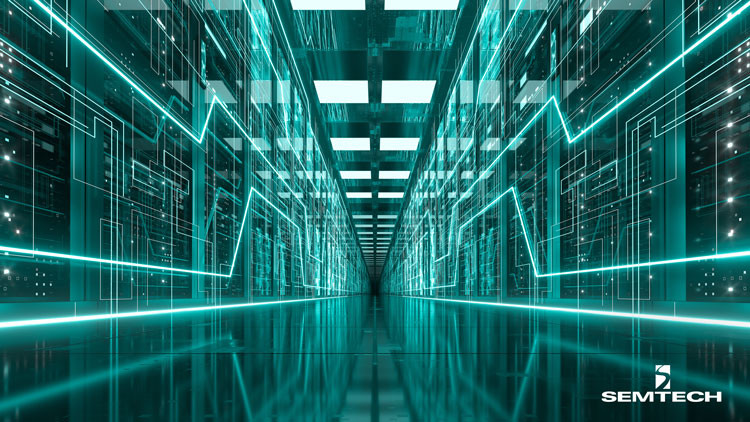 Semtech Unveils New Products for Next-Gen Data Centers, PON and 5G Wireless Networks to Address Increasing Data Demands
Semtech also joins Mobile Optical Pluggable Alliance (MOPA) in commitment to advance 5G requirements in optical solutions
CAMARILLO, Calif., March 7, 2023 – Semtech Corporation (Nasdaq: SMTC), a high-performance semiconductor, IoT systems and Cloud connectivity service provider, today announced several new products in its Signal Integrity portfolio that extend the company's leadership in optical fiber integrated circuit solutions for data center, wireless, and passive optical networks (PON). The new products provide customers with the low power, low cost and low-latency solutions needed for hyperscale data center applications, wireless infrastructure, and access and enterprise networking.
The digital revolution—spurred by the rapid adoption of IoT-based technology, Artificial Intelligence (AI), automotive, Cloud services, mobile subscriptions and more—is rapidly increasing worldwide data usage that drives the need for higher data rates in data center, PON and wireless networks. Semtech's optical networking platform provides the backbone IC technology to support these higher rates and global data usage. By expanding its award-winning optical portfolio that includes Tri-Edge™, FiberEdge®, CopperEdge™ and PON-X™ products, Semtech continues to support the data center, PON and wireless networks, and is enabling customers to meet current and future optical networking needs with power, cost, and latency advantages.
"Optical solutions are vital to connect and enable high performance digital platforms. By improving networks at the chip level, Semtech is allowing our customers to prepare their networks for the exponential growth in data demands expected in the next few years. These new products, announced at OFC, underscore our leading position in the market and Semtech's ability to address every level of the digital ecosystem including optical module customers, system providers and end users," said Timothy Vang, vice president of marketing and applications in Semtech's Signal Integrity Group.
At OFC 2023, Semtech announced several new products, including:
Live demonstration of 200G/lane optical link with Broadcom and Keysight – this live in-booth demo uses 200G FiberEdge® linear drivers and TIAs.
PON-X™ chipset for 50G High Speed PON (HS-PON) – enables multi-gigabit broadband services for homes and businesses and will drive new use cases for the PON market.
Sampling availability of FiberEdge® GN1825 octal transimpedance amplifier (TIA) – solves space challenges in 100G/lane single mode fiber space, enabling low cost and high performing solution in small footprint.
Production availability of FiberEdge® GN1814 TIA – enables qualification testing of the latest optical transceiver technology in data center.
Production availability of GN1300 and GN1400 TIAs – for use in optical modules for 5G wireless x-haul applications.
Expansion of PON-X platform for 10G PON ONUs – the combined GN28L98 combo chip and the GN28L54A 10G transimpedance amplifier (TIA) provides high-performance and low-cost solutions to manufacturers.
Mobile Optical Pluggable Alliance (MOPA) – company joined MOPA to help define the next generation 5G wireless requirements and optical solutions.
Semtech's Signal Integrity portfolio platform addresses optical and copper interconnect requirements for data rates from 2.5G to 1.6T for data center, PON and wireless networking applications. The Signal Integrity platform leverages Semtech's high performance analog design solutions that provide customer advantages in power, latency, and cost for advanced networking applications.
To learn more about Semtech's optical solutions, visit the website.
About Semtech's Optical Products
Semtech's optical networking product platforms provide high-performance signal integrity for optical module solutions used by leading companies in the data center/enterprise networking, wireless infrastructure and passive optical network markets. For more information, visit www.semtech.com/optical.
About Semtech
Semtech Corporation (Nasdaq: SMTC) is a high-performance semiconductor, IoT systems and Cloud connectivity service provider dedicated to delivering high quality technology solutions that enable a smarter, more connected and sustainable planet. Our global teams are dedicated to empowering solution architects and application developers to develop breakthrough products for the infrastructure, industrial and consumer markets. To learn more about Semtech technology, visit us at Semtech.com or follow us on LinkedIn or Twitter.
Forward-Looking and Cautionary Statements
All statements contained herein that are not statements of historical fact, including statements that use the words "will", "expected" or other similar words or expressions, that describe Semtech Corporation's or its management's future plans, objectives or goals are "forward-looking statements" and are made pursuant to the Safe-Harbor provisions of the Private Securities Litigation Reform Act of 1995, as amended. Such forward-looking statements involve known and unknown risks, uncertainties and other factors that could cause the actual results of Semtech Corporation to be materially different from the historical results and/or from any future results or outcomes expressed or implied by such forward-looking statements. Such factors include, but are not limited to: the uncertainty surrounding the impact and duration of supply chain constraints and any associated disruptions; future responses to and effect of the ongoing COVID-19 pandemic or other similar health crises; export restrictions and laws affecting Semtech Corporation's trade and investments, and tariffs or the occurrence of trade wars; worldwide economic and political disruptions, including as a result of inflation and the current conflict between Russia and Ukraine; competitive changes in the marketplace including, but not limited to, the pace of growth or adoption rates of applicable products or technologies; downturns in the business cycle; and the additional risk factors set forth in Semtech Corporation's Annual Report on Form 10-K filed with the Securities and Exchange Commission (www.sec.gov) on March 16, 2022 as such risk factors may be updated, amended or superseded from time to time by subsequent reports that Semtech Corporation files with the Securities and Exchange Commission. Semtech Corporation assumes no obligation to update any forward-looking statements in order to reflect events or circumstances that may arise after the date of this release, except as required by law.
Semtech, the Semtech logo and FiberEdge are registered trademarks or service marks, and Tri-Edge, CopperEdge and PON-X are trademarks or service marks, of Semtech Corporation or its subsidiaries.
SMTC-P
###