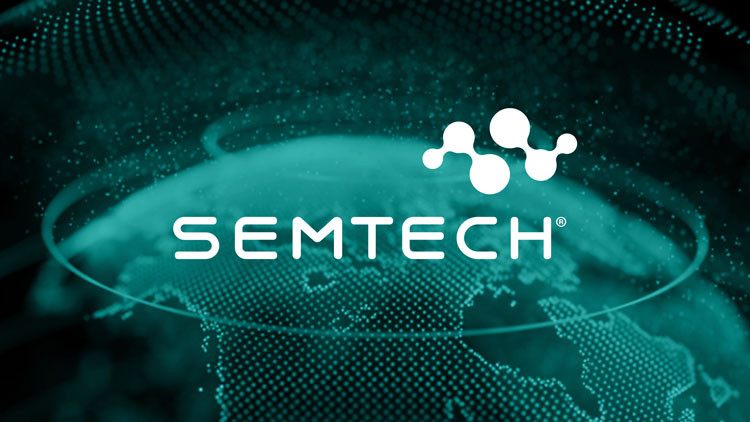 Semtech Unveils New Brand Reflecting Company's Vision to Enable a Smarter, More Connected and Sustainable Planet
• Bringing together the best of Semtech and Sierra Wireless • Reflects the broad portfolio of technologies and industry leading solutions that are transforming, connecting and protecting the world
CAMARILLO, Calif., March 9, 2023 – Semtech Corporation (Nasdaq: SMTC), a high-performance semiconductor, IoT systems and Cloud connectivity service provider, today unveiled a refreshed brand reflecting the company's redefined identity and vision following its acquisition of Sierra Wireless. With the acquisition of Sierra Wireless, Semtech's portfolio now includes a broad Cloud-to-chip portfolio of products and services including a wide range of semiconductors, cellular modules and routers, software, and connected services to simplify and accelerate digital transformation, and to transform, protect and connect the world.
The new, modernized brand symbolizes the merging of the two companies' strengths in semiconductor, connectivity, and IoT. The updated logo and new color palette of eco-friendly shades showcase the company's focus on sustainable technology solutions for IoT, data centers and consumer devices.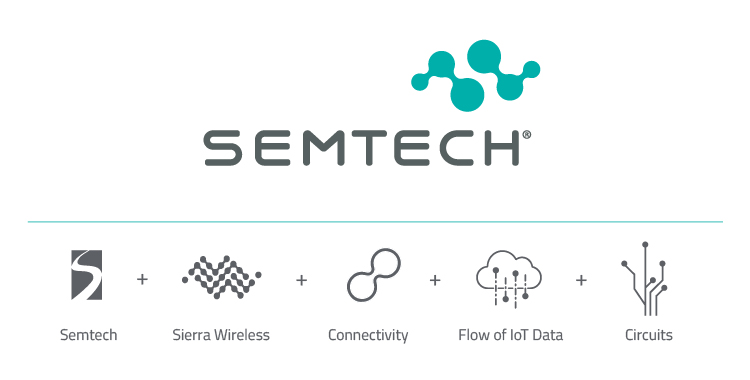 "I am very excited to unveil our new visual identity that captures the new Semtech," said Julie McGee, Semtech's senior vice president, chief marketing officer and chief environmental, social and governance (ESG) officer. "Our new identity embodies our vision, our values and the core promise of our brand to deliver innovation and industry leadership and to be a trusted and valued partner of the world's innovators, working to develop solutions to enable a smarter, more connected and sustainable planet."
From smart homes and smart cities, to smart health care, manufacturing, agriculture, industrial and more, LoRa®-enabled sensing solutions are solving real world challenges. From preserving natural resources to tracking endangered species to reducing food waste, there are a range of LoRa-enabled solutions across the globe tackling sustainability issues head on. Cellular IoT is also enabling data driven efficiencies and insights never possible before. By combining the ultra-low power benefits of LoRa® with the higher bandwidth capabilities of cellular, Semtech is delivering a comprehensive, optimized and scalable IoT platform that enables even more IoT use cases, faster adoption, easier integration and a quicker time-to-market. Further, Semtech's protection business also helps to eliminate e-waste and its signal integrity business offers low power solutions for leading data centers.
The company's new visual identity reflects this broad portfolio of technology solutions, modern thinking and sustainability focused approach.
To see Semtech's new brand identity, visit: www.semtech.com.
About Semtech
Semtech Corporation (Nasdaq: SMTC) is a high-performance semiconductor, IoT systems and Cloud connectivity service provider dedicated to delivering high quality technology solutions that enable a smarter, more connected and sustainable planet. Our global teams are dedicated to empowering solution architects and application developers to develop breakthrough products for the infrastructure, industrial and consumer markets. To learn more about Semtech technology, visit us at Semtech.com or follow us on LinkedIn or Twitter.
Press Contact
Shannon Love
Semtech Corporation
slove@semtech.com
480-225-7325
Forward-Looking and Cautionary Statements
All statements contained herein that are not statements of historical fact, including statements that use the words "will" or other similar words or expressions, that describe Semtech Corporation's or its management's future plans, objectives or goals are "forward-looking statements" and are made pursuant to the Safe-Harbor provisions of the Private Securities Litigation Reform Act of 1995, as amended. Such forward-looking statements involve known and unknown risks, uncertainties and other factors that could cause the actual results of Semtech Corporation to be materially different from the historical results and/or from any future results or outcomes expressed or implied by such forward-looking statements. Such factors include, but are not limited to: the uncertainty surrounding the impact and duration of supply chain constraints and any associated disruptions; future responses to and effect of the ongoing COVID-19 pandemic or other similar health crises; export restrictions and laws affecting Semtech Corporation's trade and investments, and tariffs or the occurrence of trade wars; worldwide economic and political disruptions, including as a result of inflation and the current conflict between Russia and Ukraine; competitive changes in the marketplace including, but not limited to, the pace of growth or adoption rates of applicable products or technologies; downturns in the business cycle; and the additional risk factors set forth in Semtech Corporation's Annual Report on Form 10-K filed with the Securities and Exchange Commission (www.sec.gov) on March 16, 2022 as such risk factors may be updated, amended or superseded from time to time by subsequent reports that Semtech Corporation files with the Securities and Exchange Commission. Semtech Corporation assumes no obligation to update any forward-looking statements in order to reflect events or circumstances that may arise after the date of this release, except as required by law.
Semtech, the Semtech logo, Sierra Wireless and LoRa are registered trademarks or service marks of Semtech Corporation or its subsidiaries.
SMTC-P