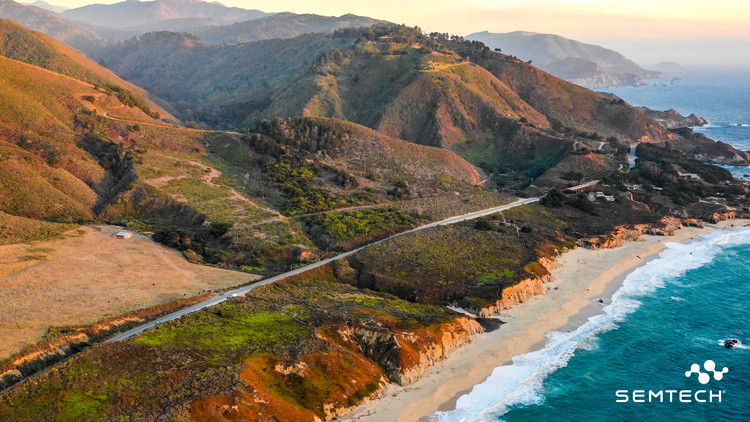 Semtech Releases Inaugural Corporate Sustainability Report
Reflecting commitment to advancing the global sustainability agenda and aligning with the United Nations Sustainable Development Goals
CAMARILLO, Calif., May 03, 2023 – Semtech Corporation (Nasdaq: SMTC), a high-performance semiconductor, IoT systems and Cloud connectivity service provider, today announced it has released its inaugural Corporate Sustainability report.
"I am excited to present Semtech's first Corporate Sustainability report, which incorporates both companies - Sierra Wireless and Semtech, and reflects our commitment to advancing the global sustainability agenda and aligning with the United Nations Sustainable Development Goals (UN SDGs)," said Julie McGee, Semtech's senior vice president, chief marketing officer and chief environmental, social and governance (ESG) officer.
"Our vision is to deliver high-quality, innovative solutions that enable a smarter, more connected and sustainable planet," continued Mrs. McGee. "Semtech has been at the forefront of developing products for environmental and social good including our Advanced Protection and Sensing Products which extend product life and reduce e-waste, our IoT products which deliver low-power IoT connectivity solutions, and our Signal Integrity Products that reduce infrastructure costs and power consumption. We are now expanding our efforts as a combined company to help to create a better world."
Semtech's products contribute to the global sustainability agenda by enabling its customers to deliver solutions that help address a majority of the UN SDGs, and help solve some of the biggest challenges facing the planet including energy management, natural resource reduction, pollution control and infrastructure efficiency. The company's products and technologies include, among others, the preeminent LPWAN technology LoRa®, Signal Integrity analog and mixed signal products that help lower the power used by data center networks, and Advanced Protection products that protect circuitry to limit e-waste. In addition, Semtech's product suite now also includes the recently acquired Sierra Wireless family of products that are enabling critical connections in IoT that support many of the UN SDGs.
As part of its commitment, Semtech has set four goals and areas of focus for CY2023 and beyond, aligned with the UN SDGs:
Products for social and environmental good - design products and solutions that enable a smarter, more connected and sustainable planet
Build a sustainable supply chain - partner with suppliers to ensure its supply chain is socially and environmentally responsible
Reduce our operating impact on the environment - develop energy management, climate change and water security plans including setting GHG emissions reduction targets
Enhance our thriving workplace - continue to develop a thriving workplace to maximize the employee experience, maintain our employer of choice rating to attract and retain top talent, and increase representation of women and underrepresented groups across the workforce, including sales, technical and leadership roles
Semtech acquired one of the world's leading IoT solutions providers Sierra Wireless earlier this year, bringing together the ultra-low power benefits of LoRa with higher bandwidth capabilities of cellular to create a new IoT Chip-to-cloud systems leader. The combined companies present numerous possibilities to advance sustainability.
Learn more about Semtech and its sustainability efforts at https://www.semtech.fr/company/corporate-citizenship, where the Company's inaugural Corporate Sustainability report is also available to download.
About Semtech
Semtech Corporation (Nasdaq: SMTC) is a high-performance semiconductor, IoT systems, and Cloud connectivity service provider dedicated to delivering high-quality technology solutions that enable a smarter, more connected, and sustainable planet. Our global teams are committed to empowering solution architects and application developers to develop breakthrough products for the infrastructure, industrial and consumer markets. To learn more about Semtech technology, visit us at Semtech.com or follow us on LinkedIn or Twitter.
Forward-Looking and Cautionary Statements
All statements contained herein that are not statements of historical fact, including statements that use the words "will" or other similar words or expressions, that describe Semtech Corporation's future plans, objectives or goals are "forward-looking statements" and are made pursuant to the Safe-Harbor provisions of the Private Securities Litigation Reform Act of 1995, as amended. Such forward-looking statements involve known and unknown risks, uncertainties and other factors that could cause the actual results of Semtech Corporation to be materially different from the historical results and/or from any future results or outcomes expressed or implied by such forward-looking statements. Such factors include those risk factors set forth in Semtech Corporation's Annual Report on Form 10-K filed with the Securities and Exchange Commission (www.sec.gov) on March 30, 2023 as such risk factors may be updated, amended or superseded from time to time by subsequent reports that Semtech Corporation files with the Securities and Exchange Commission. Semtech Corporation assumes no obligation to update any forward-looking statements in order to reflect events or circumstances that may arise after the date of this release, except as required by law.
Semtech, the Semtech logo, Sierra Wireless and LoRa are registered trademarks or service marks of Semtech Corporation or its subsidiaries.
SMTC-F
###