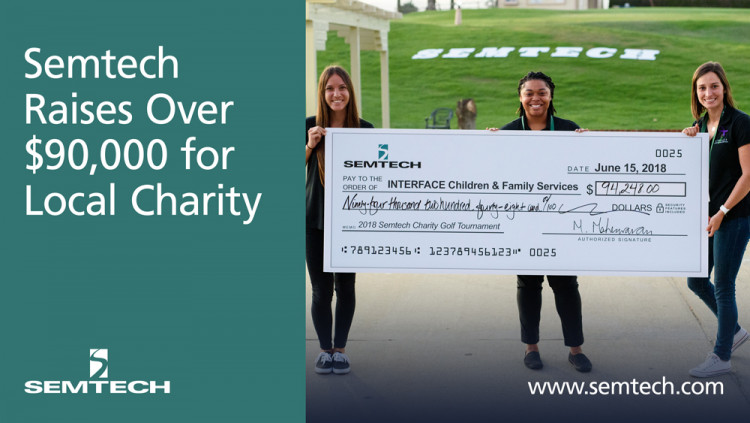 Semtech Raised Over $90,000 for Ventura County Children and Families
Donations from the sixth annual charity golf tournament benefit Interface Children & Family Services
CAMARILLO, Calif., June 20, 2018 ― Semtech Corporation (Nasdaq: SMTC), a leading supplier of high performance analog and mixed-signal semiconductors and advanced algorithms, hosted its sixth annual charity golf tournament on June 15 at the River Ridge Golf Course in Oxnard, Calif., raising over $90,000 in cash donations for Interface Children & Family Services, a nationally-recognized non-profit social services agency based in Ventura County.
Interface provided critical support services during the Thomas Fire and Montecito Mudslides demonstrating the organization's commitment to the local community. The non-profit's 2-1-1 Ventura County helpline fielded 1,800 residential calls for evacuation, shelter, financial assistance, and missing persons and its service center responded to over 10,000 texts in English and Spanish. In addition, Interface responded to 700 calls during the first two days of the mudslide, and 6,000 calls for help from Santa Barbara residents.
For the past six years, Semtech has hosted employees, families and friends for a full day of fundraising activities, including a golf tournament, silent auction, raffle and awards dinner with live auction. Platinum sponsors for this year's charity golf event included Deloitte, O'Melveny & Myers, King & Spalding, and Alliant Employee Benefits.
"Interface is extremely grateful for Semtech's commitment to the safety, health and well-being of children, families and communities of Ventura County. The generous donations from the tournament will support our ability to respond to calls for help when crises like the Thomas Fire occur. It is only through assistance from philanthropic leaders like Semtech that Interface is able to provide the quality programs that Ventura County relies on during challenging times," said Catherine Kort, Fund Development and Marketing Director at Interface Children & Family Services.
"It is important to Semtech to give back positively and meaningfully to Ventura County and neighboring cities, as we've been part of this community for almost 60 years," said Mohan Maheswaran, Chief Executive Officer of Semtech Corporation. "Our annual charity golf tournament has become a rewarding tradition for all involved at Semtech as we promote more awareness for our local non-profit organizations, like Interface Children & Family Services, that continually make an impact in community members' lives."
Semtech is dedicated to actively working within the community of its headquarter office to create more awareness and support for local children and family-based community non-profit programs. To date, Semtech's charity golf tournament has raised almost $300,000 for a variety of charities including RaisingHOPE, Inc., RAIN Communities, Inc., Interface Children & Family Services, and Big Brothers Big Sisters of Ventura County.
About Interface Children and Family Services
Interface Children & Family Services is a non-profit social services agency, providing free, proven responsive services that annually address the complex health and emotional needs of 35,000 clients locally and 150,000 clients statewide. Its 24 programs serve children, teens, adults and families who are typically low-income and threatened by poverty, domestic violence, incarceration, human trafficking, homelessness, child abuse, neglect and abandonment. More recently, Interface Children & Family Services provided support to the Thomas Fire and Montecito Mudslide victims.
About Semtech
Semtech Corporation is a leading supplier of high performance analog and mixed-signal semiconductors and advanced algorithms for high-end consumer, enterprise computing, communications, and industrial equipment. Products are designed to benefit the engineering community as well as the global community. The Company is dedicated to reducing the impact it, and its products, have on the environment. Internal green programs seek to reduce waste through material and manufacturing control, use of green technology and designing for resource reduction. Publicly traded since 1967, Semtech is listed on the Nasdaq Global Select Market under the symbol SMTC.
Forward-Looking and Cautionary Statements
All statements contained herein that are not statements of historical fact, including statements that use the words "will," "designed to," or other similar words or expressions, that describe Semtech Corporation's or its management's future plans, objectives or goals are "forward-looking statements" and are made pursuant to the Safe-Harbor provisions of the Private Securities Litigation Reform Act of 1995, as amended. Such forward-looking statements involve known and unknown risks, uncertainties and other factors that could cause the actual results of Semtech Corporation to be materially different from the historical results and/or from any future results or outcomes expressed or implied by such forward-looking statements. Such factors are further addressed in Semtech Corporation's annual and quarterly reports, and in other documents or reports, filed with the Securities and Exchange Commission (www.sec.gov) including, without limitation, information under the captions "Management's Discussion and Analysis of Financial Condition and Results of Operations" and "Risk Factors." Semtech Corporation assumes no obligation to update any forward-looking statements in order to reflect events or circumstances that may arise after the date of this release, except as required by law.
Semtech and the Semtech logo are registered trademarks or service marks of Semtech Corporation or its affiliates.
SMTC-P
###