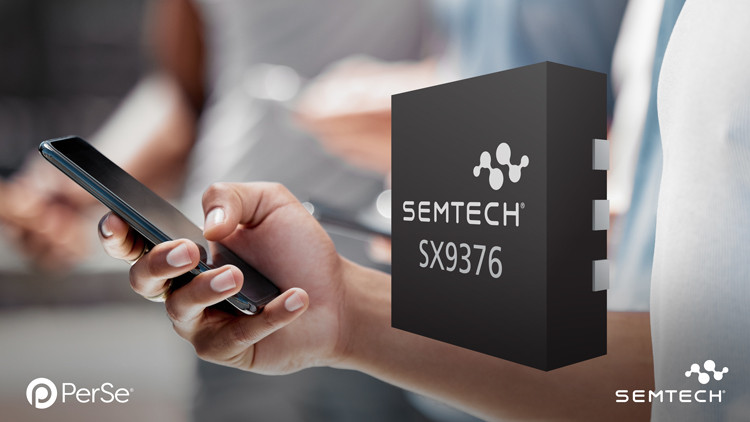 Semtech Expands PerSe® Product Portfolio with Launch of New Chipset for 5G Mobile Devices
Semtech's purpose-built PerSe Connect SX9376 chipset drastically improves 5G connectivity and maintains compliance for personal connected devices
CAMARILLO, Calif., April 12, 2023 – Semtech Corporation (Nasdaq: SMTC), a high-performance semiconductor, IoT systems, and Cloud connectivity service provider, announces the expansion of its PerSe® product portfolio with the release of a new integrated circuit (IC) purpose-built for 5G mobile devices. Semtech's PerSe technology senses human proximity and enables end devices such as smartphones to implement advanced radio frequency (RF) control. The PerSe Connect SX9376 enables designers to optimize RF performance, enhance connectivity and support elevated compliance with global specific absorption rate (SAR) standards for 5G-enabled consumer devices.
Purpose-Built Human Sensing Chips
Semtech's PerSe intelligent sensors have led the connected device market for the past decade, delivering always-on and highly responsive consumer experiences. The ability to enable automatic adjustment of system level RF emissions allows connected devices – smartphones, tablets, hotspots, and laptops – to operate at peak performance while maintaining compliance. The industry's leading original equipment manufacturers (OEMs) design Semtech's chips into their devices to deliver unrivaled consumer experiences through superior device performance, battery life, regulatory compliance and user safety.
"As the evolution of the consumer device market continues to accelerate, OEMs will continue to deliver connected devices that take advantage of the best available technologies to deliver the highest levels of performance, connectivity, and battery life that consumers demand," said David Wong, senior director of consumer sensing products for Semtech's Advanced Protection and Sensing Products Group. "For ten years and counting, OEMs have been adopting our PerSe technology into their products so that they can be sure their devices deliver the best performance while also maintaining SAR compliance."
The Global 5G Market Continues to Expand
By 2030, the global 5G market is expected to grow at a 47.6% compound annual growth rate (CAGR) with a market valuation of USD 198.44 Billion.[1] To bring these 5G-enabled products to market, OEMs must add more RF antennas into the design to address the frequency increase. The additional antennas can make it challenging for OEMs to address global SAR compliance and accurately manage the device's RF power. Semtech's SX9376 has a maximum of 8 sensor inputs to support multiple antennas and simplify the sensor design without compromising performance and regulation. Semtech's new chipset is also compatible with various antenna designs, making it easy to integrate into the latest 5G mobile devices.
Key benefits of the SX9376 in smartphones:
Semtech PerSe Connect 9376 enables optimization of system RF performance to enhance connectivity and support global SAR compliance
A maximum of eight sensor inputs to support multiple antennas
Best-in-class sensing performance with high-resolution analog front end (AFE) down to 0.74aF
Extreme versatility to support antenna designs with up to 600 pF capacitance
Superior robustness with advanced temperature correction to minimize false triggers caused by noise and temperature​
Single-chip, fully integrated solution to support all SAR sensing needs​
Learn more about Semtech's PerSe portfolio here.
About PerSe Smart Sensing Solutions
Semtech's PerSe Smart Sensing Solutions feature best-in-class sensitivity for optimal human presence detection allowing electronics manufacturers to enhance connectivity while complying with worldwide SAR regulations. The ultra-small, feature-rich sensing solutions control and reduce RF emission power in the presence of a human body, enabling significant performance advantages for manufacturers of electronic devices with radiation sources to meet stringent emission regulations criteria. The sensors are optimized for various battery-powered, portable applications such as smartphones, wearables, tablets, laptops, handheld gaming devices and other consumer electronics.
About Semtech
Semtech Corporation (Nasdaq: SMTC) is a high-performance semiconductor, IoT systems, and Cloud connectivity service provider dedicated to delivering high-quality technology solutions that enable a smarter, more connected, and sustainable planet. Our global teams are committed to empowering solution architects and application developers to develop breakthrough products for the infrastructure, industrial and consumer markets. To learn more about Semtech technology, visit us at Semtech.com or follow us on LinkedIn or Twitter.
Forward-Looking and Cautionary Statements
All statements contained herein that are not statements of historical fact, including statements that use the words "will" or other similar words or expressions, that describe Semtech's or its management's future plans, objectives or goals are "forward-looking statements" and are made pursuant to the Safe-Harbor provisions of the Private Securities Litigation Reform Act of 1995, as amended. Such forward-looking statements involve known and unknown risks, uncertainties and other factors that could cause the actual results of Semtech to be materially different from the historical results and/or from any future results or outcomes expressed or implied by such forward-looking statements. Such factors include those risk factors set forth in Semtech's Annual Report on Form 10-K filed with the Securities and Exchange Commission (www.sec.gov) on March 30, 2023 as such risk factors may be updated, amended or superseded from time to time by subsequent reports that Semtech files with the Securities and Exchange Commission. Semtech assumes no obligation to update any forward-looking statements in order to reflect events or circumstances that may arise after the date of this release, except as required by law.
Semtech, the Semtech logo and PerSe are registered trademarks or service marks of Semtech Corporation or its subsidiaries.
SMTC-P
###