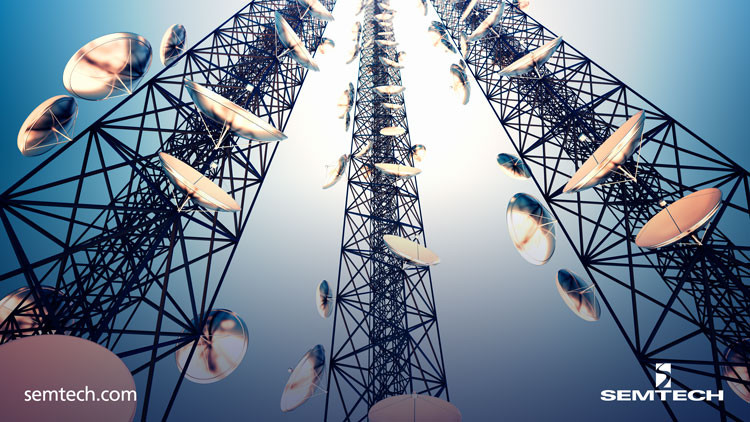 Semtech Announces Sampling of Industry-leading IC Solution for 5G Wireless Market
Bi-directional ClearEdge® CDR with an integrated single-ended EML driver offers the lowest power and smallest package size for SFP28 LAN-WDM (LWDM) optical modules
CAMARILLO, Calif., Sept. 10, 2020 – Semtech Corporation (Nasdaq: SMTC), a leading supplier of high performance analog and mixed-signal semiconductors and advanced algorithms, today announced immediate sampling of Semtech's industry leading ClearEdge® Clock and Data Recovery (CDR) platform. The bi-directional ClearEdge CDR integrates a single-ended EML laser driver optimized to enable the use of alternative optics for 5G wireless solutions and offers the lowest power and smallest package size for SFP28 LAN-WDM (LWDM) optical modules.
"Semtech has worked closely with its customers and laser partners to understand the challenges of developing an effective solution for LWDM optical transceiver modules and we believe this is a truly disruptive solution in this space," said Raza Khan, Senior Market Manager for Semtech's Signal Integrity Products Group. "Semtech offers a broad and unique portfolio to enable complete 5G wireless solutions with an extensive range of module requirements. We expect to continue leading the 5G wireless market with innovative IC offerings."
5G wireless front haul infrastructure requires a combination of optical modules with requirements changing based on regional differences, deployment area considerations and carrier preferences. In regions where it is typically difficult to install fiber more readily or reduce overhead costs, carriers are increasingly introducing new "colored" optical modules that send and receive multiple wavelengths on a single fiber. One common type of colored optical module is the LWDM, offering a balance of cost, power and number of wavelengths supported. However, key challenges in LWDM module deployments include high cost, high power and lack of integration in the IC.
Semtech's ClearEdge (GN2154) IC enables industry-leading performance in LWDM modules with low cost EML lasers, while offering ultra-low power of 550mW typical (with 1.85VppSE driver swing) in a small 3.24mm x 2.05mm WLCSP package. GN2154 also offers advanced features such as RSSI and OMA LOS support, internal loopback, industrial temperature support, and Semtech's proprietary eye-shaping features for maximizing performance.
GN2154 is available for immediate sampling with mass production expected in December 2020. Semtech also plans to provide customers with a complete Reference Design Kit (RDK) to minimize time-to-market.
Semtech's ClearEdge CDR and FiberEdge™ PMD platform for 5G wireless applications includes:
25G SFP28 300m LR-lite, LR 10km, BiDi, CWDM, MWDM optical modules
25G SFP28 LWDM optical modules

GN2154: Bi-directional 24-28G ClearEdge CDR with Integrated SE EML driver
GN1086: Next generation 24-28G FiberEdge TIA

25G SFP28 DWDM, Tunable optical modules
About Semtech's Optical Products
Semtech's optical networking product platforms provide high-performance signal integrity for optical module solutions used by leading companies in the data center/enterprise networking, wireless infrastructure and passive optical network/Fiber to the X markets. For more information, visit www.semtech.com/optical.
About Semtech
Semtech Corporation is a leading supplier of high performance analog and mixed-signal semiconductors and advanced algorithms for infrastructure, high-end consumer and industrial equipment. Products are designed to benefit the engineering community as well as the global community. The Company is dedicated to reducing the impact it, and its products, have on the environment. Internal green programs seek to reduce waste through material and manufacturing control, use of green technology and designing for resource reduction. Publicly traded since 1967, Semtech is listed on the Nasdaq Global Select Market under the symbol SMTC. For more information, visit www.semtech.com.
Forward-Looking and Cautionary Statements
All statements contained herein that are not statements of historical fact, including statements that use the words "expect," "will," "plan to," "designed to," or other similar words or expressions, that describe Semtech Corporation's or its management's future plans, objectives or goals are "forward-looking statements" and are made pursuant to the Safe-Harbor provisions of the Private Securities Litigation Reform Act of 1995, as amended. Such forward-looking statements involve known and unknown risks, uncertainties and other factors that could cause the actual results of Semtech Corporation to be materially different from the historical results and/or from any future results or outcomes expressed or implied by such forward-looking statements. Such factors are further addressed in Semtech Corporation's annual and quarterly reports, and in other documents or reports, filed with the Securities and Exchange Commission (www.sec.gov) including, without limitation, information under the captions "Management's Discussion and Analysis of Financial Condition and Results of Operations" and "Risk Factors." Semtech Corporation assumes no obligation to update any forward-looking statements in order to reflect events or circumstances that may arise after the date of this release, except as required by law.
Semtech, the Semtech logo and ClearEdge are registered trademarks or service marks, and FiberEdge is a trademark or service mark, of Semtech Corporation or its affiliates.
SMTC-P
###