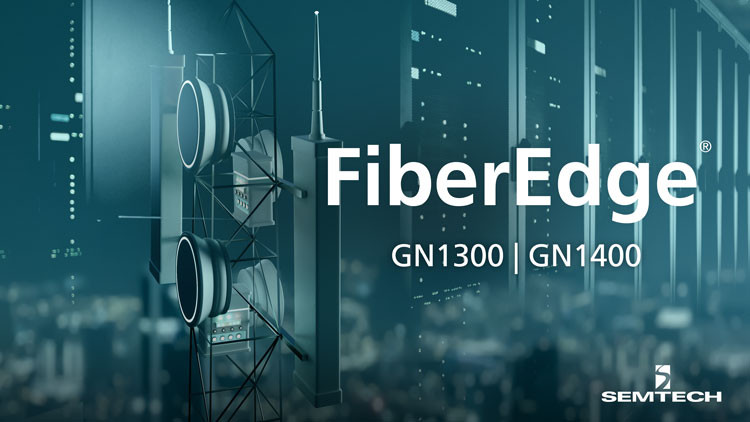 Semtech Announces Production Release of Specialized FiberEdge® Solutions for Use in Optical Modules for 5G Wireless X-haul Applications
The new FiberEdge GN1300 and GN1400 transimpedance amplifiers
CAMARILLO, Calif., March 7, 2023 – Semtech Corporation (Nasdaq: SMTC), a high-performance semiconductor, IoT systems and Cloud connectivity service provider, today announced that it is expanding its FiberEdge® portfolio with the production availability of two new solutions for transimpedance amplifiers (TIAs), offering best-in-class performance for use in high-performance optical modules operating at 25Gbps for 5G wireless infrastructure.
The two new FiberEdge solutions are part of Semtech's portfolio that provide high-performance signal integrity for optical module solutions used by leading companies in the data center/enterprise networking, wireless infrastructure and passive optical network markets.
The FiberEdge GN1300 and GN1400 are single lane 24-28Gbps non-return-to-zero (NRZ) TIAs specialized for use in both grey (single color) and multiple color wavelength-division multiplexing (WDM) optical modules. Additionally, both the GN1300 and GN1400 enable industrial temperature range operation for use in optical modules for 5G wireless base stations for front-haul and aggregate networks.
"The production availability of the FiberEdge GN1300 and GN1400 offers customers optimized performance for the PIN receiver optical sub-assembly (ROSA) and APD ROSA applications, which customers now require as they ramp up their 25G optical module solutions for the 5G wireless market," said Soham Shah, product line manager for Semtech's Signal Integrity Products Group. "When coupled with Semtech's 25G ClearEdge® clock and data recovery (CDR) devices, the optical modules exceed performance requirements for all module types and architectures."
The FiberEdge GN1300 and GN1400 will be demonstrated at the Semtech booth #1901 during the Optical Fiber Communication Conference (OFC) 2023, March 7-9, in San Diego, California.
Learn more about Semtech's FiberEdge portfolio here. For more information, visit www.semtech.com/optical.
About Semtech
Semtech Corporation (Nasdaq: SMTC) is a high-performance semiconductor, IoT systems and Cloud connectivity service provider dedicated to delivering high quality technology solutions that enable a smarter, more connected and sustainable planet. Our global teams are dedicated to empowering solution architects and application developers to develop breakthrough products for the infrastructure, industrial and consumer markets. To learn more about Semtech technology, visit us at Semtech.com or follow us on LinkedIn or Twitter.
Forward-Looking and Cautionary Statements
All statements contained herein that are not statements of historical fact, including statements that use the words "will" or other similar words or expressions, that describe Semtech Corporation's or its management's future plans, objectives or goals are "forward-looking statements" and are made pursuant to the Safe-Harbor provisions of the Private Securities Litigation Reform Act of 1995, as amended. Such forward-looking statements involve known and unknown risks, uncertainties and other factors that could cause the actual results of Semtech Corporation to be materially different from the historical results and/or from any future results or outcomes expressed or implied by such forward-looking statements. Such factors include, but are not limited to: the uncertainty surrounding the impact and duration of supply chain constraints and any associated disruptions; future responses to and effect of the ongoing COVID-19 pandemic or other similar health crises; export restrictions and laws affecting Semtech Corporation's trade and investments, and tariffs or the occurrence of trade wars; worldwide economic and political disruptions, including as a result of inflation and the current conflict between Russia and Ukraine; competitive changes in the marketplace including, but not limited to, the pace of growth or adoption rates of applicable products or technologies; downturns in the business cycle; and the additional risk factors set forth in Semtech Corporation's Annual Report on Form 10-K filed with the Securities and Exchange Commission (www.sec.gov) on March 16, 2022 as such risk factors may be updated, amended or superseded from time to time by subsequent reports that Semtech Corporation files with the Securities and Exchange Commission. Semtech Corporation assumes no obligation to update any forward-looking statements in order to reflect events or circumstances that may arise after the date of this release, except as required by law.
Semtech, the Semtech logo, FiberEdge and ClearEdge are registered trademarks or service marks of Semtech Corporation or its subsidiaries.
SMTC-P
###