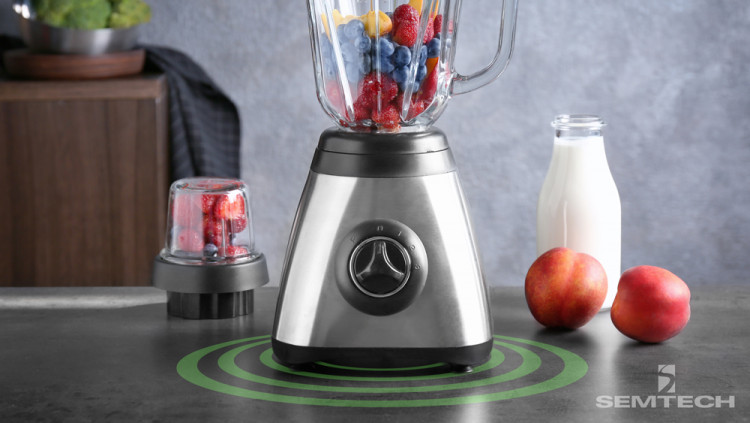 Semtech Announces New LinkCharge® 40 for 40W Wireless Charging
LinkCharge 40 among the first of its kind to bring wireless charging capabilities to high power devices
CAMARILLO, Calif., Oct. 16, 2018 – Semtech Corporation (Nasdaq: SMTC), a leading supplier of high performance analog and mixed-signal semiconductors and advanced algorithms, today announced the release of a new LinkCharge® reference design and evaluation boards for 40 watt wireless charging – one of the first of its kind for higher powered devices. LinkCharge 40 brings wireless charging capabilities to high power devices such as battery powered tools, computer tablets and laptops, mid-size household appliances including kitchen equipment and automatic vacuum cleaners.
"As one of the first 40W wireless charging platforms, we expect the LinkCharge 40 to be the disruptive solution enabling wireless charging functionality for an entirely new range of higher power products," said Francois Ricodeau, Sr. Product Line Manager for Semtech's Wireless and Sensing Products Group. "Semtech's Power Products continue to drive the innovation necessary to create change in ease of power management and efficiency in electrical usage."
The new LinkCharge 40 implements Semtech's new patent-pending Foreign Object Detection (FOD) system to safely stop power transfer in the event an unintended object is placed on the power transmitter, with or without presence of a compatible receiver. In order to keep the equipment cool during charging, the DC-DC efficiency of the platform has been measured up to 80% at a 20W half load and up to 85% efficient for a full 40W load.
The entire chipset for both transmit and receive is available for $8.75 in quantities of 10,000 units.
LinkCharge 40 EVBs are available at Mouser and Digikey, or by contacting your local sales office. Learn more about LinkCharge 40 on our website.
LinkCharge 40 Product Information:
24V input / 40W output power
19V default output voltage, 24V optional
WPC1.2 compliant

Supports up to 15W output power with WPC1.2 receivers
Supports up to 40W output power with Semtech receivers

Foreign objective detection function (for safe operation)
Supports various smartphone charging protocols (with latest firmware)
Resources
About Semtech's LinkCharge Platform
Semtech's LinkCharge wireless charging platform provides a range of solutions to enable wireless power in next-generation products for consumers, infrastructure and industrial applications. It includes the LinkCharge 40 Series, the LinkCharge 20 Series, the LinkCharge CT Series, and the LinkCharge LP. The LinkCharge platform is compatible with the major industry standards ensuring end products can quickly charge any wireless charging-equipped device even as the industry adoption continues to grow and evolve. More information about LinkCharge platform and the rest of Semtech's wireless charging solutions is available at www.semtech.com/wireless-charging.
About Semtech
Semtech Corporation is a leading supplier of high performance analog and mixed-signal semiconductors and advanced algorithms for high-end consumer, enterprise computing, communications, and industrial equipment. Products are designed to benefit the engineering community as well as the global community. The Company is dedicated to reducing the impact it, and its products, have on the environment. Internal green programs seek to reduce waste through material and manufacturing control, use of green technology and designing for resource reduction. Publicly traded since 1967, Semtech is listed on the Nasdaq Global Select Market under the symbol SMTC. For more information, visit www.semtech.com.
Forward-Looking and Cautionary Statements
All statements contained herein that are not statements of historical fact, including statements that use the words "will," "designed to," or other similar words or expressions, that describe Semtech Corporation's or its management's future plans, objectives or goals are "forward-looking statements" and are made pursuant to the Safe-Harbor provisions of the Private Securities Litigation Reform Act of 1995, as amended. Such forward-looking statements involve known and unknown risks, uncertainties and other factors that could cause the actual results of Semtech Corporation to be materially different from the historical results and/or from any future results or outcomes expressed or implied by such forward-looking statements. Such factors are further addressed in Semtech Corporation's annual and quarterly reports, and in other documents or reports, filed with the Securities and Exchange Commission (www.sec.gov) including, without limitation, information under the captions "Management's Discussion and Analysis of Financial Condition and Results of Operations" and "Risk Factors." Semtech Corporation assumes no obligation to update any forward-looking statements in order to reflect events or circumstances that may arise after the date of this release, except as required by law.
Semtech, the Semtech logo and LinkCharge are registered trademarks or service marks of Semtech Corporation or its affiliates.
SMTC-P
###