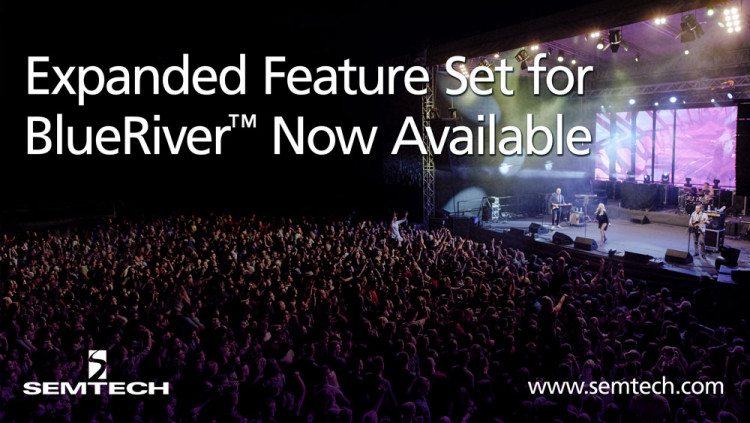 Semtech Announces Immediate Availability of Expanded Feature Set for BlueRiver™ AV-over-IP Platform
The new BlueRiver firmware gives manufacturers and installers an advantage in the migration from traditional matrix switches to networked distribution solutions
CAMARILLO, Calif. — April 26, 2018 — Semtech Corporation (Nasdaq: SMTC), a leading supplier of high performance analog, mixed signal semiconductors and advanced algorithms, today announced immediate availability of an updated feature set for its BlueRiver™ AV-over-IP chipset. The new firmware allows manufacturers of BlueRiver-based AV transmitters and receivers to remain at the forefront of the migration from traditional matrix switches to networked distribution solutions in all Pro AV applications. New API controls focus on simplifying and expediting the system installation and commissioning process, saving system integrators time and costs.
"BlueRiver technology has forever changed the dynamics of the Pro AV industry since OEMs are now able to replace proprietary AV matrix switches with off-the-shelf Ethernet networks that deliver dramatically better price, performance, flexibility, and scalability," said Kamran Ahmed, General Manager of AptoVision products in Semtech's Signal Integrity Products Group. "In this latest release of BlueRiver firmware, we are delivering further enhancements so our customers can meet all the 4K signal distribution requirements of the full range of market segments from residential and enterprise to rental & staging and command & control."
New BlueRiver capabilities enabled in firmware release 3.5 include:
Support for 10GBaseT copper and SFP+ fiber optic connectivity on a single design with automatic firmware-controlled switching. If one link goes down, the other link will automatically be brought up and used within seconds. This type of failover benefits installations requiring high availability, and also makes it easy to build a single product supporting copper or fiber infrastructure. This feature is particularly valuable in rental & staging markets where installers face variable network infrastructure from job to job.
CEC management via the BlueRiver API means that control system programmers can have bidirectional communication with inexpensive consumer-grade TVs, avoiding the expense of commercial-class displays that deliver RS-232 connectivity. This cost saving can be particularly beneficial in enterprise and residential applications.
New selectable mode allows BlueRiver technology's ultralight compression to be applied to any source at any resolution. Ideal for large switching applications, this provides an optional aid for bandwidth management, for example, allowing 4K30 to fit into a 5Gbps window and 1008p60 to fit into a 2.5Gbps window. When combined with a multi-rage 2.5/5/10G PHY, BlueRiver supports existing cable infrastructure such as CAT5e.
Automatic EDID in point-to-point (extender only) systems permits a video source to always provide an optimal signal for its display.
Expanded dataset made available to external system microcontroller allows manufacturers of BlueRiver products to further differentiate their hardware products by optionally using a microcontroller with custom firmware.
New API controls focused on simplifying system commissioning and installation include:
"Device identify mode" simplifies large system commissioning by providing an installer of an API command that causes all LEDs on a selected endpoint to blink. With this feature, installers can quickly identify which endpoint is being addressed.
Video mute with colored field output allows a receiver to output a blank screen of arbitrary color. Control system programmers will use this new API control to make troubleshooting simpler, for example by turning a screen red to indicate that a receiver cannot communicate with a transmitter.
Improved error code reporting through API gives more information to installers to aid in troubleshooting.
About Semtech's BlueRiver Platform
Semtech's BlueRiver platform, developed by the AptoVision product engineering team, provides advanced chipsets for AV signal distribution. The award-winning BlueRiver technology has forever changed the dynamics of the Pro AV industry by letting installers and OEMs replace proprietary AV matrix switches with off-the-shelf Ethernet networks that deliver dramatically better price/performance, flexibility and scalability. Enabling end-to-end systems for AV and KVM signal extension, IP-based switching, video wall and multi-view applications, BlueRiver chipsets are the foundation of SDVoE technology, offering zero-latency, uncompressed 4K streaming over standard Ethernet with unique support for HDMI 2.0a and HDR. They also integrate high-fidelity video scaling, windowing and audio downmixing. For more information, visit www.semtech.com/aptovision.
About Semtech
Semtech Corporation is a leading supplier of high performance analog and mixed signal semiconductors and advanced algorithms for high-end consumer, enterprise computing, communications, and industrial equipment. Products are designed to benefit the engineering community as well as the global community. The Company is dedicated to reducing the impact it, and its products, have on the environment. Internal green programs seek to reduce waste through material and manufacturing control, use of green technology and designing for resource reduction. Publicly traded since 1967, Semtech is listed on the Nasdaq Global Select Market under the symbol SMTC. For more information, visit www.semtech.com.
Forward-Looking and Cautionary Statements
All statements contained herein that are not statements of historical fact, including statements that use the words "to remain," "will," "can be," "ideal for," "designed to" or other similar words or expressions, that describe Semtech Corporation's or its management's future plans, objectives or goals are "forward-looking statements" and are made pursuant to the Safe-Harbor provisions of the Private Securities Litigation Reform Act of 1995, as amended. Such forward-looking statements involve known and unknown risks, uncertainties and other factors that could cause the actual results of Semtech Corporation to be materially different from the historical results and/or from any future results or outcomes expressed or implied by such forward-looking statements. Such factors are further addressed in Semtech Corporation's annual and quarterly reports, and in other documents or reports, filed with the Securities and Exchange Commission (www.sec.gov) including, without limitation, information under the captions "Management's Discussion and Analysis of Financial Condition and Results of Operations" and "Risk Factors." Semtech Corporation assumes no obligation to update any forward-looking statements in order to reflect events or circumstances that may arise after the date of this release, except as required by law.
Semtech and the Semtech logo are registered trademarks or service marks, and BlueRiver is a trademark or service mark, of Semtech Corporation or its affiliates.
SMTC-P
###