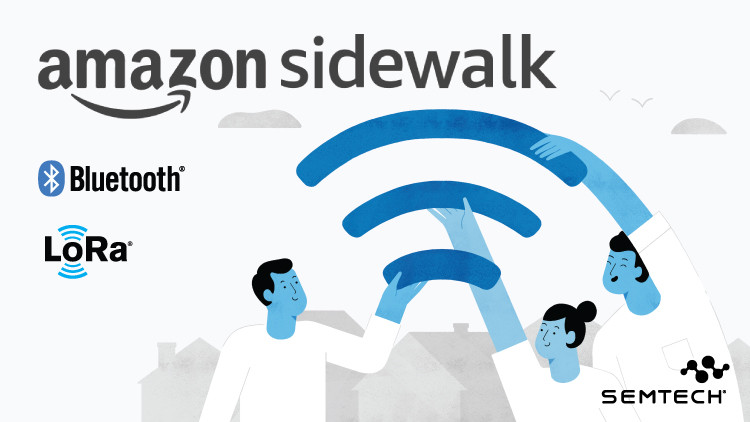 Semtech Announces First LoRa®-enabled Third Party Products Based on Amazon Sidewalk Are Now Available
Company Also Announces Availability of LoRa-enabled Development Kits and Modules to Help Developers Rapidly Create Amazon Sidewalk Devices • Semtech's ultra-low power and long range LoRa technology plays a critical role in enabling long range, community coverage with Amazon Sidewalk • Amazon Sidewalk now provides nationwide coverage to enable new use cases, and new capabilities for the next phase of IoT adoption
CAMARILLO, Calif., March 28, 2023 – Semtech Corporation (Nasdaq: SMTC), a high-performance semiconductor, IoT systems and Cloud connectivity service provider, today announced the first third-party Amazon Sidewalk products, based on Semtech's LoRa® technology, are now available from Browan, Deviceroy, HSB's Meshify and New Cosmos. Browan's motion and carbon dioxide sensors, Deviceroy's smart modem for solar installations, HSB's Meshify water sensor, and New Cosmos DeNova Detect natural gas alarm are some of the first Sidewalk-qualified products to be part of the secure, shared network that helps devices work better around the home and in the community.
Semtech's LoRa technology, with its long range, low power and secure communication capabilities, has emerged as the leading technology for LPWAN IoT applications. Amazon Sidewalk will leverage LoRa technology as one of the foundational technologies to connect a wide range of devices, from security monitoring to pet trackers, providing a low cost, low power and secure communication infrastructure for consumer IoT. Amazon Sidewalk is a shared community network powered by participating Sidewalk Bridges that keeps smart devices connected beyond the home and enables new IoT services for consumers and businesses. LoRa technology has proven to be a reliable and efficient way to transmit data over hard to reach locations inside the home and over long distances, making it one of the core technologies for Amazon Sidewalk.
Semtech also announced availability of the first LoRa-enabled development kits and modules from its partners, based on Semtech's LoRa technology, that will enable device makers and developers to rapidly create new Amazon Sidewalk devices. Silicon Labs announced an Amazon Sidewalk development platform, the Silicon Labs Pro Kit for Amazon Sidewalk, at its annual Works With Developers Conference, helping some of the devices get to market faster. Semtech collaborated with Nordic Semiconductor for seamless and persistent connectivity to Amazon Sidewalk. Nordic's nRF52840 multiprotocol SoC and nRF Connect SDK provide the best-in-class Bluetooth LE communication and LoRa support needed for Amazon Sidewalk devices to connect to the network. Semtech's LoRa Connect™ SX1262, in combination with the nRF52840 DK, is the perfect starting point for Amazon Sidewalk development.
Semtech also collaborated with Quectel on the Quectel KG100S module to make it easier for developers to integrate LoRa technology into new and existing devices and services. In addition, Oxit, an alpha design partner, is also announcing the availability of its OxTech Sidewalk Module which enables developers to seamlessly develop with the same hardware for both AWS IoT Core for Sidewalk and AWS IoT Core for LoRaWAN® networks.
"We are excited to see the Amazon Sidewalk community network has crossed this significant milestone of broad, nationwide coverage and is now ready to support developers to create innovative new IoT devices and IoT services. With its ultra-low power and long-range profile, LoRa technology is the key enabling technology empowering a new era of Sidewalk-based IoT use cases," said Mohan Maheswaran, Semtech's president and chief executive officer. "Our partnership with Amazon is just the latest example of the strong global adoption of LoRa and why LoRa is the leading technology enabling a smarter, more connected and sustainable world."
"LoRa has broadened IoT adoption by enabling communication over long ranges while using very little power. Today's announcement by Amazon Sidewalk, showing broad availability of Amazon Sidewalk LoRa connectivity, demonstrates the confidence Amazon has in the capability and the potential of LoRa technology," said Daniel Newman, founding partner and chief analyst of Futurum Research and the CEO of the Futurum Group. "With more than 300 million devices currently based on LoRa technology in the market today, the new Amazon Sidewalk growth initiative is well positioned to deliver more innovation, devices and IoT use cases in communities and in the home."
To learn more about how LoRa is enabling Amazon Sidewalk, please visit: semtech.com/sidewalk
About Semtech
Semtech Corporation (Nasdaq: SMTC) is a high-performance semiconductor, IoT systems and Cloud connectivity service provider dedicated to delivering high quality technology solutions that enable a smarter, more connected and sustainable planet. Our global teams are dedicated to empowering solution architects and application developers to develop breakthrough products for the infrastructure, industrial and consumer markets. To learn more about Semtech technology, visit us at Semtech.com or follow us on LinkedIn or Twitter.
Forward-Looking and Cautionary Statements
All statements contained herein that are not statements of historical fact, including statements that use the words "will" or other similar words or expressions, that describe Semtech's or its management's future plans, objectives or goals are "forward-looking statements" and are made pursuant to the Safe-Harbor provisions of the Private Securities Litigation Reform Act of 1995, as amended. Such forward-looking statements involve known and unknown risks, uncertainties and other factors that could cause the actual results of Semtech to be materially different from the historical results and/or from any future results or outcomes expressed or implied by such forward-looking statements. Such factors include, but are not limited to: the uncertainty surrounding the impact and duration of supply chain constraints and any associated disruptions; future responses to and effect of the ongoing COVID-19 pandemic or other similar health crises; export restrictions and laws affecting Semtech's trade and investments, and tariffs or the occurrence of trade wars; worldwide economic and political disruptions, including as a result of inflation and the current conflict between Russia and Ukraine; competitive changes in the marketplace including, but not limited to, the pace of growth or adoption rates of applicable products or technologies; downturns in the business cycle; decreased average selling prices of Semtech's products; Semtech's reliance on a limited number of suppliers and subcontractors for components and materials; changes in projected or anticipated end-user markets; and the additional risk factors set forth in Semtech's Annual Report on Form 10-K filed with the Securities and Exchange Commission (www.sec.gov) on March 16, 2022 as such risk factors may be updated, amended or superseded from time to time by subsequent reports that Semtech files with the Securities and Exchange Commission. Semtech assumes no obligation to update any forward-looking statements in order to reflect events or circumstances that may arise after the date of this release, except as required by law.
Semtech, the Semtech logo and LoRa are registered trademarks or service marks, and LoRa Connect is a trademark or service mark, of Semtech Corporation or its subsidiaries.
SMTC-P
###