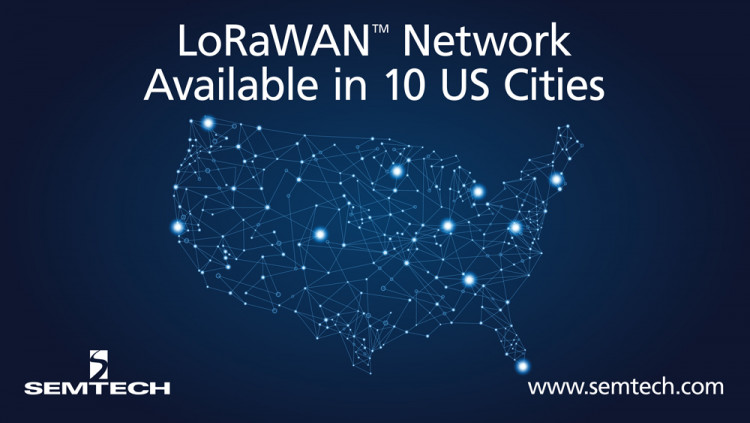 Semtech and Comcast's machineQ Announce LoRaWAN Network Availability in 10 Cities
Semtech and machineQ collaborate to provide comprehensive coverage to support diversified IoT applications for smart cities in the U.S.
CAMARILLO, Calif., May 3, 2018 – Semtech Corporation (Nasdaq: SMTC), a leading supplier of analog and mixed-signal semiconductors and advanced algorithms, announces that machineQ™, Comcast's enterprise Internet of Things (IoT) network service, has connected operational LoRaWAN™ networks to 10 U.S. cities. The extensive and comprehensive network coverage in these markets increases access at the network edge to add value to solutions providers and enterprises, establishing a strong foundation for nationwide deployment.
According to ABI Research, IoT technology revenues across 12 key smart city technologies and verticals, including metering, parking and street lighting, is expected to grow from around U.S.$25 billion in 2017 to U.S.$62 billion in 2026 at an average growth rate of 11 percent. This rapid adoption will need a proven infrastructure that is able to scale and provide key capabilities – long range, low power – to support multiple applications. MachineQ has rolled out networks in Philadelphia, Chicago, San Francisco, Atlanta, Baltimore, Boston, Denver, Detroit, Indianapolis, Miami, Minneapolis/St. Paul, Oakland, Pittsburgh, Seattle, and Washington D.C. The comprehensive network presence in these 10 cities demonstrates the steady progress of enabling smart business decisions with the broad adoption of Semtech's LoRa® devices and wireless radio frequency technology (LoRa Technology) for their smart applications.
"As we continue to deploy LoRaWAN-based access to cities across the U.S., we are enabling businesses across a wide range of industries to bring IoT solutions to market faster, which is good for the ecosystem as a whole," said Alex Khorram, General Manager of Comcast's machineQ. "We are seeing real momentum as solution providers and end users alike are realizing the benefits of having a low-power, wide-area connectivity option as they look to take advantage of IoT within their organizations."
"In the last year, the increasing number of IoT use cases has rapidly grown and machineQ's optimized LoRaWAN network drives even more diverse applications and IoT adoption," said Marc Pegulu, Vice President and General Manager for Semtech's Wireless and Sensing Products Group. "MachineQ's widespread and comprehensive presence in these 10 cities demonstrates that enterprises believe that Semtech's LoRa Technology is a proven and established IoT platform able to support a diverse number of applications in making cities smarter, from improving parking congestion to remote lighting control for street lights."
Resources
What is LoRa? Visit Semtech's website.
Learn more how machineQ™ leverages connected sensors, network and software technologies to enable innovative IoT solutions.
About Semtech's LoRa® Devices and Wireless RF Technology
Semtech's LoRa devices and wireless radio frequency technology is a widely adopted long-range, low-power solution for IoT that gives telecom companies, IoT application makers and system integrators the feature set necessary to deploy low-cost, interoperable IoT networks, gateways, sensors, module products, and IoT services worldwide. IoT networks based on the LoRaWAN™ specification have been deployed in over 100 countries and Semtech is a founding member of the LoRa Alliance™, the fastest growing IoT Alliance for Low Power Wide Area Network applications. To learn more about how LoRa enables IoT, visit Semtech's LoRa site and join the LoRa Community to access free training as well as an online industry catalog showcasing the products needed for building the ideal IoT application.
About Comcast
Comcast Corporation (Nasdaq: CMCSA) is a global media and technology company with two primary businesses, Comcast Cable and NBCUniversal. Comcast Cable is one of the nation's largest video, high-speed internet, and phone providers to residential customers under the XFINITY brand, and also provides these services to businesses. It also provides wireless and security and automation services to residential customers under the XFINITY brand. NBCUniversal operates news, entertainment and sports cable networks, the NBC and Telemundo broadcast networks, television production operations, television station groups, Universal Pictures and Universal Parks and Resorts. Visit www.comcastcorporation.com for more information.
About Semtech
Semtech Corporation is a leading supplier of analog and mixed-signal semiconductors for high-end consumer, enterprise computing, communications, and industrial equipment. Products are designed to benefit the engineering community as well as the global community. The Company is dedicated to reducing the impact it, and its products, have on the environment. Internal green programs seek to reduce waste through material and manufacturing control, use of green technology and designing for resource reduction. Publicly traded since 1967, Semtech is listed on the Nasdaq Global Select Market under the symbol SMTC. For more information, visit www.semtech.com.
Forward-Looking and Cautionary Statements
All statements contained herein that are not statements of historical fact, including statements that use the words "to add," "expected to," "will," "continue to," "look to," "to improve," "designed to," or other similar words or expressions, that describe Semtech Corporation's or its management's future plans, objectives or goals are "forward-looking statements" and are made pursuant to the Safe-Harbor provisions of the Private Securities Litigation Reform Act of 1995, as amended. Such forward-looking statements involve known and unknown risks, uncertainties and other factors that could cause the actual results of Semtech Corporation to be materially different from the historical results and/or from any future results or outcomes expressed or implied by such forward-looking statements. Such factors are further addressed in Semtech Corporation's annual and quarterly reports, and in other documents or reports, filed with the Securities and Exchange Commission (www.sec.gov) including, without limitation, information under the captions "Management's Discussion and Analysis of Financial Condition and Results of Operations" and "Risk Factors." Semtech Corporation assumes no obligation to update any forward-looking statements in order to reflect events or circumstances that may arise after the date of this release, except as required by law.
Semtech, the Semtech logo, and LoRa are registered trademarks or service marks, and LoRaWAN is a trademark or service mark, of Semtech Corporation or its affiliates. MachineQ is a trademark or service mark of Comcast Corporation or its affiliates.
SMTC-P
###