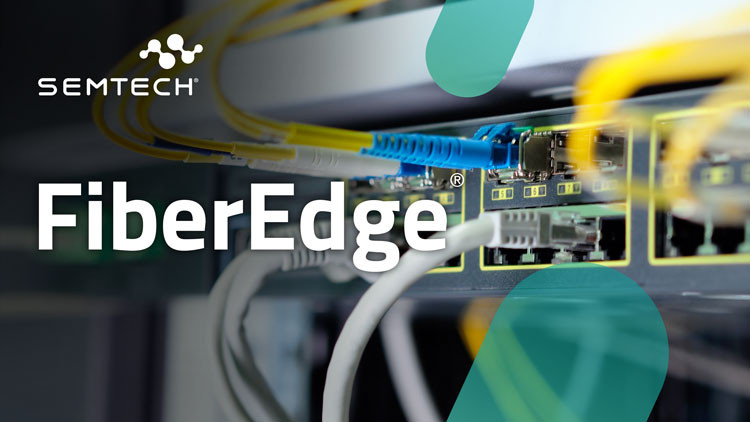 Semtech and Broadcom Showcase 200G/lane Optical Transceiver at ECOC 2023
Collaboration delivers turnkey solution for N x 200G/lane market, paving the way to successful deployment of next generation 51.2T and 102.4T switch platforms
CAMARILLO, Calif., Oct 2, 2023 – Semtech Corporation (Nasdaq: SMTC), a high-performance semiconductor, IoT systems and cloud connectivity service provider, today announced the demonstration of a 200G/lane optical transceiver featuring Semtech's latest FiberEdge® 200G PAM4 PMDs and Broadcom's latest generation DSP PHY and single mode optics.
Semtech will be conducting a live demonstration of the 200G/lane module, based on Semtech's newest FiberEdge 200G PAM4 Quad EML Driver and Quad TIA and Broadcom's state-of-the-art 5nm 112GBd PAM4 DSP, EML and PD devices in Semtech's booth #517 at the European Conference on Optical Communication (ECOC) 2023 exhibition in Glasgow, Scotland from Oct 2 to 4.
"The demonstration of a 200G/lane ready-to-adopt optical module validates the 200G/lane technology, of which Semtech has been an early enabler, confirming Semtech's strong commitment to advanced technology and innovation," said Nicola Bramante, senior product line manager for Semtech's Signal Integrity Products Group. "The collaboration with Broadcom as active contributor to the 200G/lane ecosystem on both the DSP and the optics side has been instrumental to this important milestone towards the implementation of 1.6T and beyond, and ultimately towards the deployment of next generation 51.2T and 102.4T switches."
"Broadcom is pleased to collaborate with Semtech on the development of the next generation of optical modules based on 200G/lane optics that use Broadcom's DSP along with Semtech's laser driver and TIA", said Khushrow Machhi, Senior Director, Marketing for Broadcom's Physical Layer Products Division. "These next generation of optical modules capable of bandwidths up to 1.6TB will drive the adoption of 51.2TB next generation switching platforms."
About Semtech's Optical Products
Semtech's optical networking product platforms provide high-performance signal integrity for optical module solutions used by leading companies in the data center/enterprise networking, wireless infrastructure and passive optical network/Fiber to the X markets. For more information, visit www.semtech.com/optical.